Collin Powell's emails are about Clinton, Obama, Trump, and Bill's bimbos
Hillary Clinton wishes Collin Powell's emails were deleted along with hers.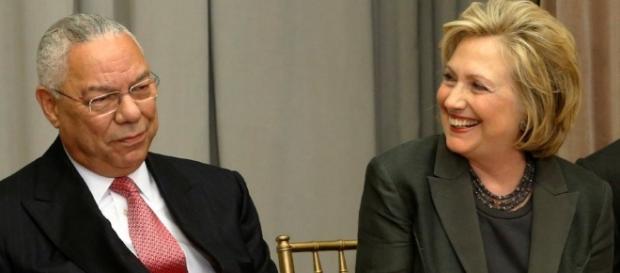 #Hillary Clinton has been saying she was inclusive, and I am starting to think maybe she is more inclusive than I ever gave her credit for. With the releasing of former Secretary of State Collin Powell's emails it appears Clinton tried to include him in her cover-up about illegally using a private server in her basement for classified information.
Powell clearly expresses his thoughts on the email scandals, Benghazi, President Obama, and #Donald Trump. Further interesting information to come out was while calling Clinton a friend he hopes not to have to vote for her. On the other hand he thinks very little of Clinton's opponent Donald Trump, either, calling him a disaster.
Powell in leaked email slams Bill Clinton on continuing affairs with 'bimbos' #TCOT #WakeUpAmerica #MAGA #PJNET https://t.co/PVfkLJf6tY

— Joey Brooklyn (@Joe_America1776) September 14, 2016
Clinton calls Obama that man
More interesting facts to come out include the name for Obama when the Clinton's speak of him as "That Man," Powell goes on to say Obama would be okay with it if Clinton ended up in legal trouble. Telling it like he thinks it is, Powell mentions in one email about Bill Clinton still having sex with other women inside the Clinton home, referring to the women as bimbos.
This entire scenario of emails, he said, she said is becoming comical. Donald Trump needs to stay focused and continue talking about the needs of the American people like he has been doing of late. Trump is focused on the task at hand while Clinton is focused on saving her candidacy, her legacy, and her entire life according to Powell in one of the hacked emails that were released.
Collin Powell "everything HRC touches she kind of screws up with hubris" https://t.co/ddSmcENoiD #Sanders2016

— CallawayBOT (@CallawayBOT) September 14, 2016
Trump closing & widening the gaps
Trump is closing in the polls he is behind currently, and in those that he already had a lead he is widening that gap. In reality Clinton herself is widening and closing those gaps herself. Exposing the real person behind the image she has tried to create will be the real downfall of the Clinton "Mafia" as Powell refers to her entourage.
Powell writes about Clinton expecting to win the Presidency. Clinton, he says, has never gotten over getting her behind kicked by Obama in 2008. The truth is that more and more Americans are seeing Clinton for what she really is,  and what she really cares about, which is herself first. Scandal after scandal is taking a toll on her supporters, and she has only the deplorable's to turn to. They are simply too smart to trust her about anything anymore. Trust is not a word used to describe Hillary Clinton by anyone I can find a quote from.
The political arena in Washington D.C. has someone finally fighting for Americans, and that would be Donald Trump. Sooner or later Hillary Clinton will leave Washington beaten by her own arrogance, and behind her will be the carnage of those who became too close to Clinton for their own good. The former four star General Colin Powell is finding that out the hard way. The political elites have to be nervous about who is next to be in the spotlight.
#DNC is meeting now to discuss back up plan to #HillaryClinton that AMERICAN SOCIALISTS do not want & JFK #democrats have rejected. @CNN

— Lori Patriot (@LoriPatriot) September 12, 2016
#CollinPowell