Bill Clinton assures Americans that Hillary only was 'dehydrated' at 9/11 ceremonies
Former president will appear for Hillary in Los Angeles and Nevada; former Secretary of State is resting comfortably.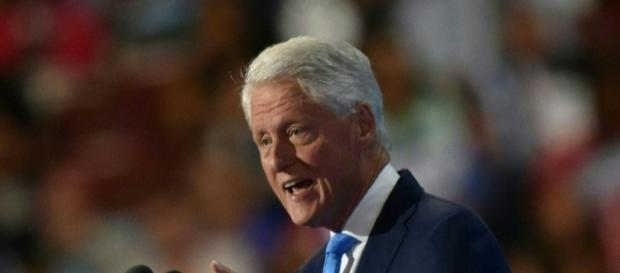 Former President Bill Clinton told Charlie Rose that wife Hillary simply was suffering from "dehydration" on Sunday during a 9/11 ceremony in New York. Clinton revealed that #Hillary Clinton had been diagnosed with pneumonia on Friday of last week and was taking antibiotics. 
Clinton blamed a "rigorous political schedule" for Hillary's dehydration, saying that she has "worked like a demon" over the past few years since serving as a senator and Secretary of State and then running for president.
Bill will appear for Hillary
The Clinton campaign confirmed that Bill Clinton would make appearances this week for Hillary in Los Angeles and Nevada.
Bill Clinton reassured Rose that Hillary is resting comfortably and that she had attained a "good night's sleep." Mr. Clinton confirmed that Hillary's maladies are limited to the dehydration and pneumonia, stating "She just got dehydrated yesterday."
No other illnesses
The Clinton campaign has confirmed that Hillary has no other illnesses besides pneumonia and dehydration, stating emphatically: "There is no other undisclosed condition." Hillary Clinton's press secretary, Brian Fallon, explained that Hillary's physician had made it clear that none of Hillary's current symptoms emanate from a blood clot from which the presidential candidate had suffered foGiornalista Partecipativo Juniorur years ago.
Health information to be released
The Clinton campaign also revealed that they would release additional health information.
The campaign made it clear that they are striving to be transparent about HIlary's health and to put to rest any "lingering" concerns about the candidate's health.
Trump promises to release medical records
Meanwhile, GOP presidential candidate #Donald Trump, who Hillary described as a "rookie" at diplomacy, stated that "something is going on" with Hillary. Trump then continued by asserting that he hopes that Hillary "gets well." In a Labor Day interview with David Muir, Trump stated that he "might" go ahead and release his health records before Hillary releases her records. Trump then said that he thinks that he "will do that."
Trump's credibility in question
Trump's credibility was called into question in recent weeks when he tried to blame Hillary Clinton for disgraced former Congressman #Anthony Weiner's sexting problems. As Trump sees it, Weiner's wife, Humna Abedin, who is a high-ranking official in the Clinton campaign, "must have released" information from Hillary Clinton's classified emails to Weiner and that Weiner must have released that information to "undisclosed recipients."
Trump's logic is twisted and totally ludicrous. But then again, is that really anything new?