An architectural fantasy that's as real as it gets
New York City is getting an implausible new structure in its street with little use apart from public delight.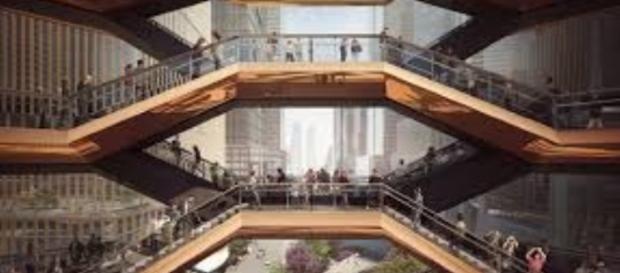 A big idea
You might call this a variation on a vicious cycle. Behold, the aimless straight line, except aimless is a good thing this time. Coming to New York City's Hudson Yards in 2017 will be a mile-high stairway ending in mid-air that stacks up 16 stories overlooking a garden and park. And even without destination, the structure will boast high purpose: to provide great views for those willing to climb the 154 flights of 2,500 intersecting steps. And if you need to rest on your way up, you'll have 80 landings that will also serve as observation decks. How good is that?
A big original idea
Stairways that don't go anywhere are not an unknown subject in painting, but not in architecture.
So there's no comparison between this dead-end structure and say the one in "Joseph in Egypt" by Jacopo Pontormo whose  stairs go no place and for no good reason (except for conveying how unsettled he usually was). Neither is the city's anticipated view of a garden anything like the stair to nowhere "Agony in the Garden," Andre Mantegna's vision detailed with vultures waiting on trees like those feathered killers in Hitchcock's "The Birds."
A big expensive idea
The Manhattan project is a world apart from any of these. Real estate developer Stephen M. Ross, funding the $150 million cost, hired an architect inspired by the imagination of Dutch artist Maurice Cornelis Escher, which should tell you a little of what his stairway will look like. But while Ross's choice of architect, Britain's Thomas Heatherwick, credits Escher for the structure, there's a huge difference between the two.
Unlike Escher who made it his business to screw up conventional physical laws by picturing stairways with multiple sources of gravity in the same image, Heatherwick's steps are not all that otherworldly. They just look that way -- like an optical illusion. Constructed of bronzed-steel and concrete, the steps form a solid reality that weighs in at 600 tons.
Don't get the wrong idea
Some news coverage characterizes Heatherwick's concept as surreal. Not even a little bit. Surrealism was out to transcend reality by setting unrelated objects next to one another. There's nothing illogical about Heatherwick's work. He doesn't thumb his nose at reality the way, say, Surrealist painter Odilon Redon did when he explored his dreams or when fellow Surrealist Giorgio de Chrico rendered arcaded buildings in lonely streets to mark the ways of modern life. Rather than duck reality, Heatherwick aims to enhance it with better views. As he told the press, he sees his elevations as a "public stage," a gathering place for New Yorkers and visitors to share. Nice, huh? Ross has dubbed the stairway "the social climber." The only oddity in all this is the name that the stairway goes by – the "Vessel." When you think of a vessel, you think ocean liner, not a lookout. #Art