America, I am a confused white man, violence is not the answer
Protests and riots in Charlotte, Baltimore, Baton Rouge, and violence in Chicago have brought a national problem to the forefront.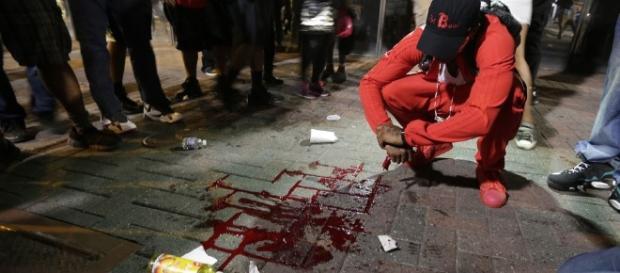 Looking around the already great but imperfect #United States leaves me totally confused. Personally I am a 59-year-old white man. I own my own small business with my wife that we opened in 1989. We have four children along with 8 (almost 9) grandchildren. My wife and I live in a nice mixed race, mixed nationality neighborhood, but far from upscale. Crime and violence are not prevalent in our daily lives.
Looking East to Charlotte
Now on to my confusion. Looking to the east I have seen protests, and in some cases riots in Baltimore, Ferguson, and currently Charlotte. Being completely transparent I have been unable to understand the rioting part, but I have never been a black man from one of those areas.
I have no idea what those people are going through or what they have been through for that matter.
I have however watched as some of them broke windows of area businesses before looting them. My thought on this particular thing is very simply, why? Surely those business owners were part of the community, and in most cases doing a good thing by being there. Imagining how those owners felt as their hard work was torn up, taken, and at worst, burned.
Looking North to Chicago
Looking North I see Chicago, a beautiful city by the lake that I once took my wife to for a mini vacation. We visited many parts of the city feeling safe everywhere we went. These days that might not be the way we feel with all the news each week of how many people die by random acts of violence. This is totally mind-boggling to me.
Was it that way when we visited and I am just so blind I could not see it? Still North I see another senseless death in Tulsa.
Looking South to Dallas
Looking South to Baton Rouge -- more protests -- but this time police officers targeted and killed, and again, my confusion escalates. The officers that were shot were not the ones people were protesting, they were husbands, fathers, sons, and brothers to someone else totally innocent before this all started. I totally understand being mad enough to protest, but I cannot wrap my mind around killing just some random person you cross paths with.
Not far from Baton Rouge is Dallas where again officers protecting protestors were the target of a crazed person who planned, and then carried out a military-style ambush. Random strangers that just happened to be in the wrong place at the wrong time. You could have replaced one of the stricken officers with another random person who happened to be a police officer, and they would have been dead too.
It is just football
None of this makes sense to me. Looking West I see a young man who happens to play football taking a knee during the national anthem, and people are enraged. News flash to those people, it is a football game, just entertainment, that's all. This is America and Colin Kaepernick has every right to take that knee. Maybe we should get him to go into detail as to why he kneels. Following that conversation we should let him help fix the problem because this is America, and he has that right also.
What I am not confused about is the fact that while our country is not perfect, it is the next best thing. I also know that killing random police officers because you are angry, or burning down a business that belongs to someone else totally random are not the answers. Something else I know is something a friend ends every email with "Short-term answers do not provide long-term solutions." No truer words were ever written.
Violence is not the answer
One Nation under God, with liberty and justice for all, I read that somewhere. Dialogue needs to take place, obviously changes need to take place, and it is hard to talk when you are fighting. There are literally millions around the world that would trade places with anyone of us, and very few of us would take that trade. Make no mistake, the world is watching. In summary I am confused, we do have problems, we need solutions, and violence is not the answer. #Charlotte