Why Allyson Felix is the Olympic gold winner for me
Allyson Felix would've actually won the Olympic gold had Shaunae Miller not dived for the line.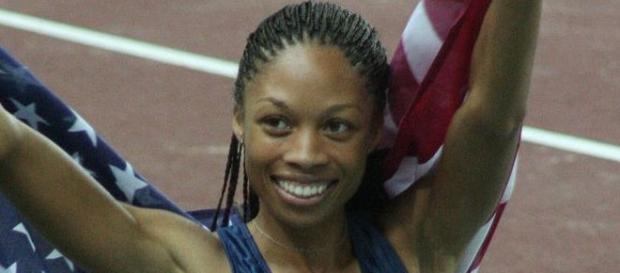 The American sprinter, and the favorite to win the Women's 400 meter sprint, Allyson Felix would have won the much deserved Olympic gold had Shaunae Miller not dived over the line right at the end. I saw how the TV set was fixated on Ms. Felix and how the commentators were talking about her achievements for a long time. It was the first time I was going to watch the 400 meter sprint as Allyson Felix was the favorite to win. So the race started and I noticed that the favorite sprinter looked somewhat lost in the middle somewhere trying to catch up or something with the rest. I began doubting all that talk about the favorite and at that moment it all seemed near impossible for Allyson to come close to  3rd place - let alone win the Olympic gold.
I saw Allyson winning
Then, in some kind of a magical moment, I saw the person Allyson Felix metamorphosis into the champion, Allyson Felix. I saw how she had caught up with the rest of the group andI saw how tshe left almost everyone behind her. It felt good to 'see her win'. I saw her winning it. Then I saw Shaunae Miller's fall - the big fall. I thought she tripped or something. It soon became clear to me that Ms. Miller literally dived for the gold. It is allowed, apparently. 
The Olympic law states that sprinters can actually dive at the last moment. That's what happened here in the Olympic 400-meter race. I was gutted and devastated to find out that Shaunae Miller was named as the winner of the race. She ruined the moment for me and for millions of viewers for sure.
It was a special moment for me. I saw Allyson Felix live up to people's grand expectations. To me Allyson Felix is the ultimate winner. 
I thought it was a mistake
Allyson Felix lost by .07 seconds.  It reminds me of the Neneh Cherry (whom I had the pleasure of meeting in person in London) 7 Seconds  song. To quote Youssou N'Dour's lyrics from the hit song, It's not a second, 7 seconds away. Just as long as I stay. I'll be waiting.
I was sort of waiting for the drama to end so they could announce Allyson Felix as the Olympic gold winner. I thought it was all a mistake. I waited. I waited.  But the damage was done. Ms. Miller had taken a legal plunge that lead her to win the Olympic gold. She dived, her torso crossing the finish line at 49.44 secs, seven-hundredths of a second before Felix's 49.51. Allyson Felix was 7 mili -seconds away to add another gold to Team USA's medal count.  
I think diving should be banned and pronounced as cheating. It's a bit like kicking a boxer in the boxing ring. It's like going all Bruce Lee on Mike Tyson (OK it's like going all Connor McGregor on a boxer). 0.7 seconds. I'll be waiting to see Allyson cross that finish line and put another Olympic gold medal on her champion neck. I'll be waiting.  #News #Olympics #Sports Highlights