When the truth of the matter is carved in stone
Why did the devoutly religious sculptor who gave the world the "Pieta" carve "David" in the nude?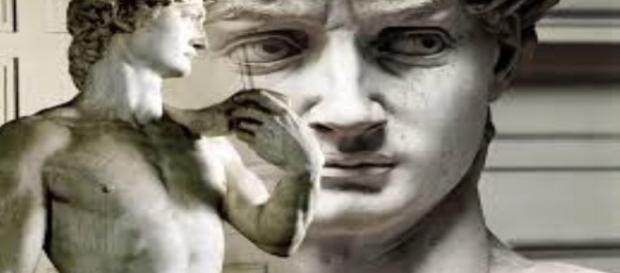 Going by the book
While art often challenges our understanding, the storytelling variety makes it easier, especially if the story is a familiar one. What can be easier to appreciate than a figure made in the image of the Old Testament's description of the shepherd boy who triumphed over an armed warrior with only his slingshot, five stones and his faith? Unlike other sculptors who described the victory, Michelangelo chose the moment before victory when David stood fast before the enemy of his people. The people of Florence, where the statue has stood since 1504, love it. So do the millions who visit the statue each year.
Cover-up in a Russian city
But folks in St.
Petersburg Russia, where a 16-foot copy is on public view  for the summer, consider "David" obscene. As one woman wrote to the Russian press last week, "How could you put this bloke without any trousers on in the center of St Petersburg, next to a school and a church?" Her worry, she explained, is that "David" "warps children's souls." Not to worry, said school director Maksim Pratusevich: "students were "sufficiently cultured and educated" to cope with nudity in art. Apparently the adult population isn't and city officials will give them a chance to vote for a wardrobe to outfit the statue in a "Dress David" contest August 16–23 with a "solemn ceremony" on August 30 for the winner.
The people of St. Petersburg aren't the first put off by David's exposed anatomy. Five years ago, the Vatican issued a statement asking that "David" be covered, citing "depravity...We must stop shielding ourselves behind a culture of art and forsaking religion." The Church has long objected to bared bodies in art, beginning with figures in Michelangelo's frescos in the Sistine Chapel.
In good faith
Yet it can be argued that Michelangelo was faithful to the Biblical account of the battle. The Book of Samuel says that when Goliath challenged Israel and David volunteered, Saul, the Israeli king, tried suiting him up with armor, but he chose to meet Goliath with his faith alone, telling the giant, "I come against you in the name of the Lord Almighty." Michelangelo stripped David down to emphasize his faith.
Fixating on the nudity, then, misses the point of this work and that of other Old Masters. Figures au naturel were the central subject of art through history, and as art historian Kenneth Clark noted in his 1972 book "The Nude: A Study in Ideal Form," they were a means to express heroism or spiritual victory. Eugène Delacroix's painting "Liberty Leading the People" comes to mind. Liberty is a bare-breasted female celebrating the year 1862 when France triumphed over Charles X of France.
To this day "David" stands in the altogether before Florence's City Hall. The  only alteration occurred in 1527 when an argument in a meeting room above the statue caused a chair to be tossed out a window injuring David's left arm. Russia's "Dress David" project injures the whole statue.   #Buzz #Android