Trump says that he would have kept his pledge to support the GOP nominee
GOP candidate tells his former primary election rivals to 'get over it' because they all were 'just having fun'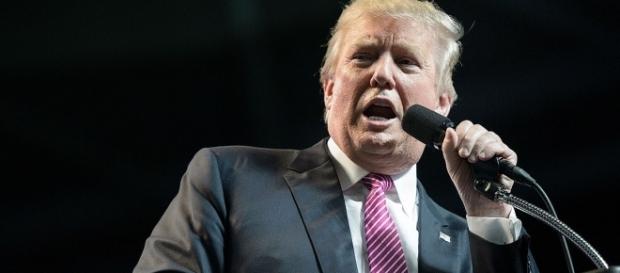 In a pathetic effort to appease his 16 former rivals in the #GOP primaries, #Donald Trump addressed them and told them to "get over it" because, as he put it, they were "just having fun." Trump did not clarify if he was just having fun when he intimated that Ted Cruz's father was involved in the assassination of President John F. Kennedy, or when he called Jeb Bush "low energy," or when he called John Kasich a "disgusting" eater, or when he mocked Chris Christie's weight by saying that the New Jersey Governor is not going to need to eat any more Oreo cookies.
Rivals not keeping their pledges
Trump discussed the fact that several of his former GOP rivals, including Ted Cruz, Jeb Bush and John Kasich are not supporting him as a presidential campaign despite the pledges that they signed promising to support the eventual GOP presidential nominee.
Trump stated that he would have "honored" his signed pledge to support the GOP nominee if it had turned out to someone other than himself.
Ted Cruz's convention speech
During the GOP convention, Ted Cruz was allowed a chance to speak to the delegates and to endorse Trump. Cruz chose instead to tell the delegates to vote their "conscience" and to vote for the candidates "of their choice." Jeb Bush suspended his campaign and walked away without endorsing Trump, and Kasich suspended his campaign while stating that he "just can't do it" (endorse Trump). During the time that Trump was considering who to appoint as his vice-presidential running mate, Kasich was quick to point out that he would not accept nor even consider a nomination as Trump's running mate.
Encounter with Black Lives Matter protester
Meanwhile, Trump had an argumentative encounter with a Black Lives Matter protester in a rally this week.
As is customary for Trump when he interacts with protesters, he told the protester to leave but not before he unleashed a "yo momma" statement. Trump rudely stated to the protester: "And your mom's voting for Trump."
"Founder of ISIS" comment explained
Trump tried to back out of his statement from earlier this week in which he alleged that Obama was the "Founder of ISIS." It appeared to this observer that Trump was trying to refute his statement while at the same time sticking by the statement. Trump awkwardly stated that he was being sarcastic when making the remark about Obama, "but not that sarcastic." Trump stated that he had been advised to state instead that Obama was "an enabler" of ISIS; however, the bankrupt real estate mogul said that calling Obama an enabler did not "sound right" to him.
Continued missteps and retractions
It appears to this observer that Trump is backing himself into a corner with his continual misstatements and explanations and retractions. He recently insulted Khizr Khan, the father of a Muslim-American soldier who was killed in Afghanistan, and stated that he also had made scarifies for America by hiring people.
He also set off a firestorm when he intimated that "second amendment people" could "do something" if #Hillary Clinton was elected President. Trump was later questioned by the Secret Service over his remarks and he later went on television to explain that he was not condoning violence against Clinton or anyone else.
Desperate lies
Feeling the pressure of the backlash from all of Trump's misstatements, clarifications and retractions, the Trump campaign has resorted to lying about some Clinton Foundation emails that recently were released. The campaign has tried to draw a parallel between the emails, which involved matters between low-level aides, and Hillary Clinton. Clinton has made it very clear that the emails did not involve her and that she had nothing to do with sending, receiving or reading the emails.