The UAE, Dubai and Abu Dhabi are oasis' of peace in the Middle East
Nine Emeritus nations which were under British rule have now developed and promise peace and tranquility in a troubled Middle East wracked by war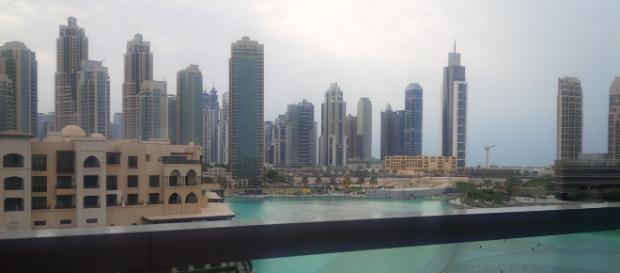 In late 19th century, a British gunboat appeared off the coast of Dubai and very soon the small emirate became a British possession. The British captured this area and consolidated their hold and the entire tip of the Arabian peninsula became a British possession. The British developed the primitive tribes but the discovery of oil in 1964 changed the face of this area. The British left in 1972, but they ensured that the 9 Emeriti states joined together to form a union and thus the United Arab Emirates was formed.
Development and oil
Oil fueled a tremendous boom and overnight the fishing villages of Dubai and Abu Dhabi were transformed into modern developed states.
The high development led to a large expatriate workforce from the sub-continent who flocked to work in this desert. Development led to Dubai becoming a world financial center and tourists flooded the UAE, to watch the latest in entertainment as well as the belly dancers.
From about the turn of the last century, a new phenomenon emerged in the Middle East on a gigantic scale. There was always violence with the likes of Saddam Hussain and Ayottalah Khomeini in Iran.yet the UAE remained insulated against this spread of violent culture. Credit for this must go to the rulers in Dubai and Abu Dhabi notably the Makhtoum family and Shiekh Zayed. But the emergence of the ISIS was a terrible curse on the Middle East and still the UAE remained relatively free of this scourge.
The UAE is an oasis of peace and there is no terror activity detected there.
The UAE is also a liberal place and Sikh Gurudwaras, Hindu Temples and Churches are allowed in contrast to the hardline nations who profess the Wahabbi form of Islam. Executions are rare and in the last 10 years perhaps only two have been executed by firing squad. 
Cosmopolitan and calm
The most cosmopolitan of the UAE is Dubai which also allows expatriates to own property with some conditions. The UAE also allows bars and five-star hotels and Dubai is home to the costliest horse race in the world (in terms of prize money). Excellent golf courses are available with duty-free shopping making Dubai one of the busiest airports in the world, receiving 61 million visitors in 2015.
How has the UAE escaped the carnage which has engulfed the entire Middle East with a sectarian war of immense proportion going on in Yemen, Syria, and Iraq ? In addition, there is no ISIS presence as well. Anybody's guess is as good as mine, but the facts speak out themselves.