Melania Trump's ignominious actions publicity stunts?
Just how low will the Trumps stoop for attention? Are they pulling a bunch of publicity stunts?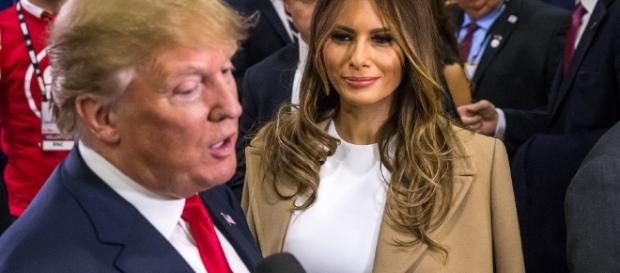 The irony of it all. Melania Trump [VIDEO] has been buzzing in the media for the last couple of weeks for her ignominious actions, both past, and present. Within hours of giving her speech at the Republican National Convention in support of her husband the Republican presidential nominee, Donald Trump, media outlets were on fire with the news that portions of Melania's speech were a direct word-for-word plagiarism of the current FLOTUS, Michelle Obama's speech at the Democratic National Convention in 2008.
To add fuel to the gulf-like flames, it was also later discovered that Melania's claims of holding a design and architecture degree from the University of Ljubljana in Slovenia were false.
Blow-by-blow, the potential first lady, is being exposed. 
Donald Trump and Miss America Pageants
Is Melania Trump unfit to be a beauty pageant title holder, yet fit for a position in the White House? Maybe this is a question for her husband, Donald Trump who during his tenure as owner of the Miss USA pageant organization made decisions to dethrone beauty pageant title holders for the same indiscretions his wife has. The dichotomy of holding beauty pageant winners to higher standards is incomprehensible. The position of the first lady of the United States is always held in high esteem. Nude photos, plagiarism, and falsifying credentials do not fit the image of a first lady. 
Publicity stunts maybe?
Donald Trump seems to have an answer for everything wrong in America. He excites his audiences with hoopla about what he will do, the wall he will build and the regulations he will set to restrict access to America from what he considers undesirables.
Is this all just a big publicity stunt? If it isn't it has to be one big joke.
When Melania plagiarism from the speech she bragged about writing herself was exposed,  the Trump campaign waited days to respond officially to the accusations. When there was a response, the blame was placed on an unknown speech writer who took the fall but wasn't fired due to the Trumps' compassion and the excuse that everyone makes mistakes. 
Just like her husband, Melania Trump appears in media outlets for unfathomable behaviors that one can only assume is for publicity.  One can only assume that the Trump campaign is using the motto "all publicity is good publicity, " as a campaign tactic.