Manafort claims that Trump showed respect for the Khan family
Discord prevails within the campaign over the endorsement of Paul Ryan; Pence endorses anyway.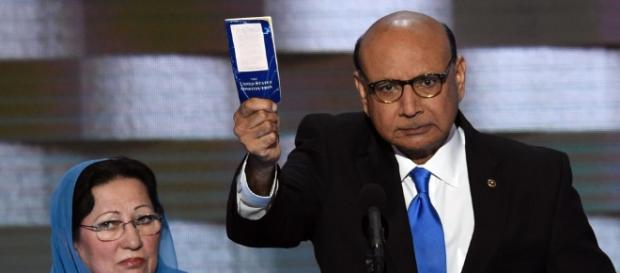 Trump campaign manager Paul Manafort claims that #GOP presidential candidate #Donald Trump has shown respect for the Khan family, but that "nobody is acknowledging it." Manafort went so far as to state that even though there is quibbling "over words," that the "sentiments" still do exist in Trump's mind. Last weekend, Trump engaged in a virtual war of words with the parents of Army Captain Humayun Khan, who was lost in Iraq in 2004. Khan's father, Khizr Khan, seriously admonished Trump for never having made any sacrifices for America, a direct reference to the fact that Trump never had served in the military or lost a son for this country.
Trump's ill-begotten response
Instead of telling Mr.
Khan that he was sorry that he had lost a son in the service of this country, and that his son was a hero, Trump talked about himself. He stated that he had "made many sacrifices" for America and that he had "created thousands of jobs." Mr. Khan became enraged at Trump's response for the fact that Trump would compare creating jobs in a business environment to his son's sacrifice of his own life for the country. Mr. Khan and his wife, Ghazala Khan, took to the airways and appeared on talk shows to protest Trump's adamant insensitivity and indifference towards them and their late son.
Insults against Mr. Khan's wife
The vicious assaults from Trump continued. He had the audacity to suggest that the reason that Ghazala Khan was quiet onstage was that the Muslim culture will not allow her to speak in public.
Trump's comment came across as bigoted because he was making sweeping generalizations about a person's behavior based solely on their ethnicity and racial stereotypes.
Endorsement of Paul Ryan
Meanwhile, there is rampant discord within the Trump campaign over whether or not to endorse Paul Ryan in his Republican Primary race in Wisconsin in his home district. Ryan is being challenged by staunch conservative Paul Nehlen, a Trump supporter. Trump has gone so far as to praise Nehlen for the way in which he has conducted the campaign so far; but he refused to endorse Ryan, stating: "I'm just not quite there yet."
Pence endorses anyway
Despite Trump's non-endorsement of Ryan, Indiana Governor Mike Pence, (R), who is Trump's running mate, ventured out and endorsed Ryan. When endorsing Ryan, Pence delineated Ryan's staunch conservative credentials and leadership ability and told FOX News that Ryan is a "longtime friend." Trump has not stated if and when he will make a decision on whether or not to endorse Ryan.
However, Pence's endorsement of Ryan speaks against Trump's claims that his campaign team is "united."
Talk of dumping Trump
This week there has been talk among GOP leaders of the possibility of dumping Trump from the ticket and making somebody else the official GOP presidential candidate. Early this week, this observer wrote that the GOP should drop Trump. Reaction from readers was that it could never happen, and that the GOP was stuck with Trump as its candidate because the #Convention was over. However, since this observer's article was published, GOP leaders have been discussing their different options for either dropping Trump from the ticket or forcing him to drop out of the race. Among the different interventions discussed by the GOP leaders was Rule 9, which is a provision that allows the GOP to remove a candidate from the presidential ticket after the convention in extreme circumstances.
September deadline
In order for the new presidential candidate and his/her running mate to be on the ballot in all fifty states, the GOP has until September 1, 2016 to dump Trump, or force him to withdraw from the race. Needless to say, somebody, somewhere within the GOP has a lot of fancy footwork to do between now and September. One never knows what is going to pop out of the GOP magician's hat next, as the rabbits run amuck.