How much do you love Donald Trump? Enough to get tatted up with a Trump head?
Tattooed for Trump, Florida man inks up to show his 'permanent' support for Donald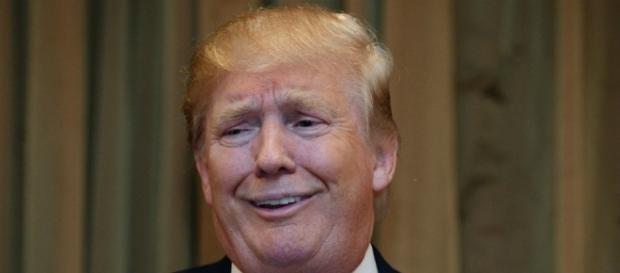 While the majority of Trump's supporters are happy to stick a sign in their yard, slap on a bumper sticker, don a cap or wear other (removable) signage, one fellow from St. Petersburg, #Florida adopted a more enduring approach to #Donald Trump touting – a full-colored Trump face now scowls out at the world from this dude's lower leg.
Known only as "Sean" (the last name-less Trump supporter did not want to provide his full identity – wonder why), the Republican backer said the tattoo took a grueling 13 hours and 20 different colors of ink. Sean is now all geeked up to vote for Trump, he said.
"This is the first time in my life I have had a choice," Sean commented, according to St.
Petersburg's Bay #News 9. "I can vote for… a businessman, someone who knows problems and is known for solving problems."
The Trump face is iconic, sort of
The tattoo was done by Joshua Dunlap, who owns Sun Coast Tattoos. Dunlap – who was not afraid to see his name in print – said he was excited to do the tattoo, but also a little nervous, since everyone knows what Trump looks like.
"It's immediately recognizable," Dunlap said. "I feel that it makes it more difficult because if there's an error, the whole world will see it because they know, the whole world knows what Donald Trump looks like."
Lots of folks have gone under the ink knife for Donald
Sean isn't the first to get tatted up for Trump. In March, an Ohio man made a similar permanent commitment to the real estate mogul and reality TV personality.
Anthony Bordell, from Warren, Ohio, got a smiling, black and white Trump on his deltoid.
The topper has to be this though: Another Florida tattoo parlor is inking a nude Donald – complete with a mini Twinkie member between his legs – for free on the skin of anyone who wants it. The outrageous skin art, being offered by Florida-based Pride-N-Envy Tattoos, is sourced from a naked painting of Donald that has been going viral.
"I actually saw the original picture by Illma Gore and thought it was awesome," said shop owner and tattoo artist Spooks Joya. "I researched what the piece stood for and couldn't resist not doing it, so I offered to do it for free on anyone who wanted."
We've heard of Tramp Stamps, but this Trump Stamping is out of control. So what happens if the deceitful Trump loses out to Hillary? Sean said he doesn't care. The tattoo is all he needs; he's trumped for life.