How are India's children doing after 69 years of independence?
The country, which will observe its 70th independence day this Aug 15, is still struggling to protect its future citizens.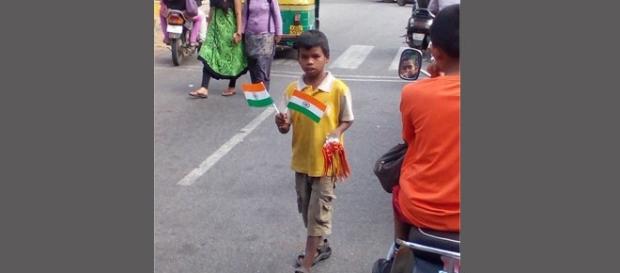 The independent state-nation called India will turn 69 this August 15. The country has achieved several milestones in seven decades since 1947, including embarking on a mission to Mars. But what about the condition of its Children? Has India succeeded in giving a happy childhood to its future citizens universally?
Statisticians found it has fallen short. An India-based NGO called Child Rights and You (CRY), which works for children's rights, periodically releases reports and analyses highlighting various aspects of their lives and most of the data say the situation is far from satisfactory.
Over 1 million child laborers in India are illiterate.
For example, close to 1.4 million child laborers in India aged between seven and 14 are unable to write their names.
As per an analysis of Census data by CRY released in June this year, one in three child laborers in that age group are illiterate.
The picture is equally grim for children who work for more than six months in a year or less to support their family.An analysis of critical child health indicators of the fourth National Family Health Survey done by CRY has shown only two states of the Indian Union—West Bengal and Tripura—have been able to maintain an annual reduction in Infant Mortality Rate by two points.
Child labor in India reducing at snail's pace.
Talking about Education, the Government of India's data showed every 11th child in the country aged between 5 and 18 is working. Revealing this last year, CRY crunched Census data to show that child labor in India has been decreasing at an annual rate of 2.2 percent in the decade.
Schooling conditions not great.
The condition of government schools for India's children are also poor. As per a June 2013 report, while 11 percent schools did not have toilets at all, only 18 percent of schools had separate toilets for girls---a negative advertisement for female education.
Moreover, 20 percent of schools did not have provision for safe drinking water while in 18 percent of them, midday meal— a key feature of India's schooling system—was either not prepared in a proper kitchen or there was no kitchen at all.
Besides, a big percentage of schools either did not have a playground, boundary wall or library.
Not much emphasis on malnutrition.
Malnutrition has also cursed the childhood of India's kids and what is worse, not many political parties have bothered to take on the menace. According to a report published in April 2014, only five out of 10 parties in India gave the issue of malnutrition a space in their manifestos for that year's high-voltage general election.
They also showed little interest in issues that are related to children besides malnutrition; like protection of children, their food security, amendment in Child Labor Prohibition and Regulation Act, health as a fundamental right or implementation of Integrated Child Development Services scheme—a government welfare program for children below six and their mothers.
[Kailash Satyarthi is a Nobel-winning Indian children's rights activist who also works against child labor]
So, when parties ignore the key issue even in the time of a national election, it is anybody's guess how much focus it gets from the political leadership at other times.
The election of 2014 marked a kind of watershed in India since the country hoped that the Achhe Din (good days) will finally usher in. But have the good days really come for India's unlucky children?
Less for children in budget
The Union Budget of 2016 dedicated little to the children, who do not vote. Allocations for children that were above five percent of the budget in 2011-12 and 2012-13 came down to 3.32 percent in 2016-17, though a slight improvement of 0.06 percent from 2015-16, said another CRY analysis.
Under the 2016-17 child budget allocation, child education has received the most (72.2 percent) followed by child development (22.87 percent), child health (3.59 percent) and child protection (1.32 percent).