Black Olives Matter is rankling from coast to coast: are you pitted up over the olive ado?
Restaurant in Albuquerque is just trying to sell some pasta here folks.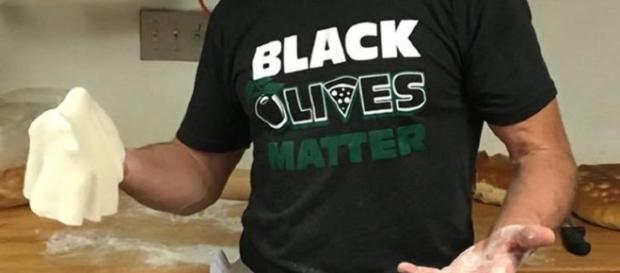 Here's something that's trending these days. We all know about #Black Lives Matter. We also are mindful of the adversarial spinoffs – All Lives Matter, White Lives Matter, Blue Lives Matter etc. But lost amongst all of these activist movements, concerns over racial profiling, brutality of minorities by members of law enforcement and the preponderant study of racial inequality in the criminal justice system, is this equally significant nugget: the Mediterranean edible fruit with an oil-rich flesh matters too.
The BOM movement has been born
Black Olives Matter! An obscure restaurant in Albuquerque, New Mexico is taking a ride on the Black Lives Matter coattails in order to shill out a tuna dish made with a black olive tapenade.
Is it trivializing the BLM movement? Of course it is. But put the backlash aside, because this eatery really believes in their fare.
Paisano's, located on Eubank Blvd in Albuquerque, has been dishing out hearty Italian food since the 1970s. Owner Rick Camuglia said he came up with some signage to promote the dish, and since then has been targeted with equal helpings of both patronage and backlash. The story of the black olive bustle and babble has now ramped up on every major #News outlet.
"It's gone so viral. We've gotten calls from Australia, Spain, France, you name it," Camuglia said, according to Albuquerque's KOAT7 News, adding that he made up the controversial t-shirts and hats because many of his customers wanted a souvenir of sorts. "People have filled the restaurant and told us to leave up the sign.
That's great, you know, because a lot of people make a living off working for this restaurant."
Reviewers have launched their online assaults
Of course, Yelpers and other armchair commentators were quick to post their one-star assessments, even though they have never lifted a fork there. "Now they're in the news for making a stupid racist joke, and profiting from it?! Unbelievable. Their new white supremacy fans can choke on that mediocre pasta," wrote one user in the past week.
Another person, claiming to be a chef, hilariously, had an issue with the type of olive. "On most of their menu posts it's not even black olives that they are putting on or in their tapenade, when in fact they are purple Kalamata olives from Greece named after the city they are from," Google user Darrius Walton wrote, even though he admitted to never eating there.
Other phrases tossed about are the typical outcry – racist, homophobic, hundreds of years of oppression and slavery, owners hate black people, yadda, yadda. An equal share are coming to the defense of Paisano's however. "Great slogan," "turns out black olives really do matter," "love the shirts. If you have no sense of humor, or voted Obama stay away," and "thanks for standing up to these terrorists."
Where do you fall?
So is the emblazoned, reworked Black Lives Matter-riffing sign really that outrageous? Are green olives the true racists here? #Buzz