Why we can't look away from Frida Kahlo's self-portraits
By staring at us from pictures of herself, Kahlo is conceivably showing how she stared down polio, a crippling accident, and a leg amputation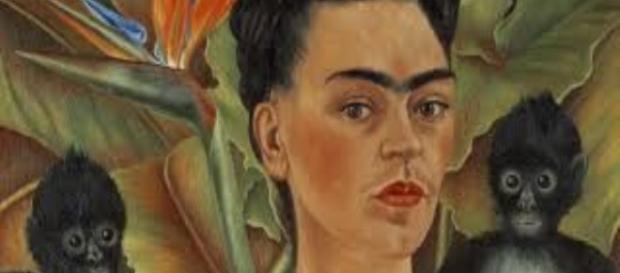 An exhibit of paintings by Frida Kahlo and Diego Rivera at the #Art Gallery of New South Wales in Sydney sold out on the opening weekend. Likely Kahlo was the big draw given that Salma Hayek brought her so vividly to life in the popular biopic "Frida." But something Kahlo's biographer Hayden Herrera wrote may also explain why: "Her paintings demand – fiercely – that you look at her." To his point, in her short life of 47 years she painted 150 pictures -- many in bed owing to lifelong health problems -- and fully 65 of them were self-portraits – stark, staring, and confrontational. Herrera was right. You can't look away.
But while Rivera may not be the odds-on main attraction that Kahlo is, he was to her.
She met him when she was 20 and he was twice that and became everything to her. As she wrote in her diary: "Diego = my husband / Diego = my friend / Diego = my mother / Diego = my father / Diego = my son / Diego = me / Diego = Universe."
When Diego met Frida
This is not to say that Rivera felt any less strongly about Kahlo. He was so taken by their first meeting that he recounted every detail to Herrera years later as if it just happened. He recalled that she burst in on him while he was high on a scaffold painting a mural in the Ministry of Public Education while his wife Lupe was seated below. Kahlo asked him if she could watch him work. When he said yes, she sat "riveted" staring at every move of his brush. This went on for hours until Lupe became jealous and started to insult Kahlo, who kept on watching Rivera.
Now enraged, Lupe "confronted her belligerently," but when Kahlo would only stare back at her, Lupe said to Rivera, "Look at that girl. Small as she is, she does not fear a tall, strong woman like me. I really like her."
The purpose of noting this anecdote is to make evident Kahlo's relentlessness from the beginning, her way of looking fixedly which her self-portraits made famous. Eyeballing whoever looks in her direction was her thing. And just as she stared down Rivera's jealous wife and stares out at us, she stared down her numerous ills: polio as a child, a horrific accident that mangled her spine and pelvis when she was a teen, her numerous miscarriages and eventually the amputation of one of her legs as an adult.
Effigies of guff
Kahlo's self-images speak of these things and her defiance again and again. She spoke of her inability to bear children in the several proud portraits of herself with monkeys. Monkeys were stand-ins for the children she couldn't have and she peers at us from these paintings, as if to say, don't cry for me. She said this in words, too: "I am happy to be alive, as long as I can paint."