Trump tried to change VP pick; made frantic midnight calls
Announcement was made on Twitter, but not before major disagreements among campaign staff.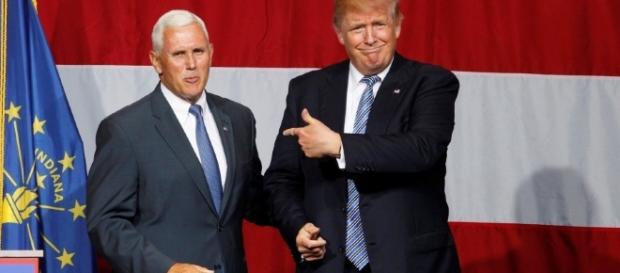 Reportedly #Donald Trump had a restless night and was calling staffers at midnight the evening before he announced Mike Pence as his running mate on Twitter. The two finalists for the VP pick were Mike Pence and Newt Gingrich, with Chris Christie on standby status in case Trump did not want either Pence or Gingrich. As it were, Trump was not happy with the selection of Pence and was so concerned that he may be the wrong pick, that he was calling staffers at midnight and asking them if he "could make a change" in the VP selection.
Sources tell me @realDonaldTrump was on phone till midnight making calls, asking if he could change course on VP pick

— Kelly O'Donnell (@KellyO) July 15, 2016
Disagreement among staffers
Reportedly there was discord among top campaign staffers over the VP pick which added fuel to Trump's own personal conflicts over the matter.
Sources indicated that Paul Manafort, the campaign manager, was backing Pence, while Trump's son-in-law, Jared Kushner, favored Gingrich. Christie remained on the short list; however, it is unclear which staffers, if any, favored Christie. Jason Miller, a Trump campaign staffer, vehemently denied the allegations of Trump's midnight calls and indecisiveness. In a tweet, Miller said that there was "zero truth" to the allegations.
This is completely false. Zero truth to it. https://t.co/xC8QAV17W3

— Jason Miller (@JasonMillerinDC) July 15, 2016
Originally, Trump was scheduled to make his VP selection announcement on Friday morning, July 15, at 11:00 a.m. from New York City. However, Trump canceled the Friday morning announcement, reportedly out of respect for the truck attack victims and their families in Nice, France.
Sources indicate that Trump was forced to make the announcement of his selection of Pence by Friday morning anyway because Pence had an electoral filing deadline of Friday morning. And so Trump tweeted his announcement on Friday morning that he had selected Pence.
As if one accusation of plagiarism waged against Melania Trump for her convention speech on opening night was not enough for the Trump campaign, yet another accusation has emerged. This accusation is against Donald Trump, Jr. for his speech on the second night of the convention. In that speech, Trump Jr. allegedly plagiarized an article by F.H. Buckley in "The American Conservative." That article talked about schools, and using education as a means of rising to the middle class.
Manafort called "a liar" by CNN host
Chris Cuomo of CNN intensely grilled Manafort on the allegations of plagiarism against Melania Trump. Manafort steadfastly denied the truth of the allegations and refused to confirm that the Trump campaign was responsible for the mishap.
It got to the point that Manafort asked Cuomo if they "could move on" and discuss something else. Cuomo fired back that he was not going to move on because Manafort was lying: "I can't move on because you keep lying about it!" After more consternation back and forth, Manafort boldly exclaimed: "I'm not lying about any of this!"
Pence-forth from here
It goes without saying that Mike Pence has become mired in a presidential campaign that is lurking over troubled waters. How Pence will assimilate into this upside-down bee hive and go forth with any semblance of effectiveness is anyone's guess. Treading water uphill is a challenge for anyone and having to keep one's head above water as more and more accusations are waged against the failing Trump machine is a near impossibility. #Election 2016 #GOP