Trump Is Favoring Pence for Vice President
Promised announcement of candidate is Friday at 11 a.m. EDT from New York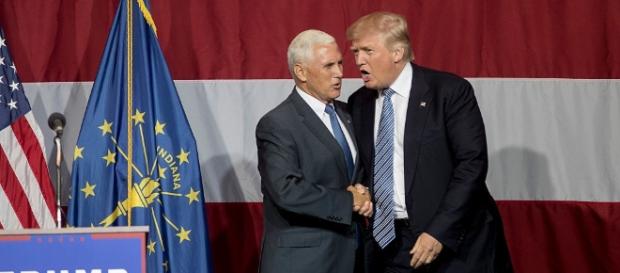 Although it is unconfirmed at this time, it appears that presumptive #GOP presidential nominee #Donald Trump's likely vice presidential nominee may be Indiana Gov. Mike Pence. Reports are circulating wildly from high profile media sources that Pence is the one who has been selected by Trump. Over the last couple of days, three finalists have been in the running for the No. 2 slot: New Jersey Gov. Chris Christie, former House Speaker Newt Gingrich and Pence.
Pros and cons of each candidate.
As in all vice presidential vetting processes, there are pros and cons for each candidate. Christie's pros are that he is a good speaker, a good organizer and a strong Trump supporter.
His cons are his low approval ratings in his own state (29 percent) and the cloud over his administration because of the Bridgegate Scandal. Gingrich's pros are his long tenure as a member of Congress and Speaker of the House, his speaking ability, and his intelligence and strong academic background. His cons are his history of marital problems and his sudden resignation as speaker after he was unsuccessful at getting multiple Republican members of Congress re-elected. Pence's pros are that he is a conservative, a conciliator, and an experienced governor and member of Congress who may be able to bring GOP congressional support to Trump. His cons are that he is considered a poor speaker and a "boring," candidate who is not very dynamic.
Trump's stays in Hoosier state.
Due to a flat tire on his plane, Trump had an unexpected extended stay in Indiana on Tuesday night after appearing at a rally with Pence in Westfield, Ind.
on Tuesday night. On Wednesday, Trump and his family spent the morning with Pence and his family at the governor's mansion. Although Pence was not offered the No. 2 position on the Trump ticket, the meeting reportedly went well. Pence described the meeting as "just very warm and just one family meeting with another."
The alleged "sell out" is discussed
Although Trump is getting a one- or two-day reprieve from his problems, he has had a bad week. Earlier in the week, Sen. Bernie Sanders, (D-Vt.), announced plans to endorse #Hillary Clinton. Trump got very upset and posted several angry tweets. In one of the tweets, Trump accused Sanders and his team of "selling out."
The Ginsburg matter mentioned
In addition to the litany of tirades over the Sanders "sell out," Trump has been mired in a war of words with Supreme Court Associate Justice Ruth Bader Ginsburg this week. In that exchange, Ginsburg accused Trump of being "a fake." Trump fired back and asked Ginsburg to resign and to seek psychiatric care.
On Thursday, Ginsburg apologized for her comments and promised to refrain from making comments on political campaigns.
The unbalanced agitator is here
Pence is seen as a well-balanced conservative who can bring stability to the Trump campaign. However, as this observer sees it, Trump is an unbalanced agitator, cycling in a washing machine and spewing his racism, bigotry, and homophobia all over the place and contaminating the Republican Party. Although Pence may be able to brace the washing machine as it agitates uncontrollably, he can't stop the spew of hatred that the Trump machine is expelling all over the place. "The Donald" is who he is and no efforts from well-meaning vice presidential candidates are going to change that. Facts are facts and nobody can camouflage Trump's undeniable bigotry, racism, homophobia and animosity toward women. There was no changing Archie Bunker as he yelled to Edith to get him another beer, and there is no changing "the Donald" as he finds yet another demographic of people to hate.