Trump and Putin can bond together for operations against Muslim extremists and terrorists
The world is faced with a terrible danger in the form of Islamic thought and it looks that Putin and Trump could be allies against them.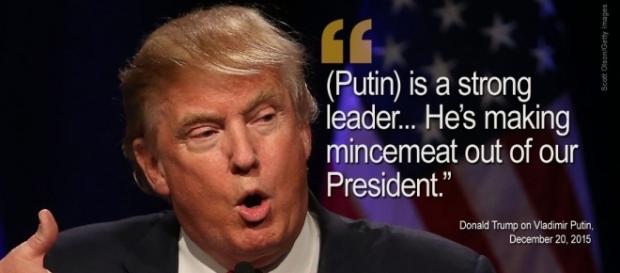 Vladimir Putin is the president of Russia and from all angles a decisive man. He has shown his mettle by a swift operation in Syria which dealt a body blow to the ISI and other extremist outfits. Putin is a pragmatic man and he used the Russian operation to good advantage to shore up his ally Assad by even attacking groups who were fighting ISI but opposed to Assad. Thus the Free Syrian army was also bombed. The beauty of the Russian operation was its speed and lethal effect. This is in sharp contrast to the American effort in Iraq, which appeared half-hearted. #Donald Trump, the presumptive Republican candidate latched on to the weakness of the US operations to pinpoint the inefficiency of the Obama administration, which as per Trump, was not serious in its fight against Muslim extremism.
He claimed rightly that the US administration failed to recognize the danger of Islam and talked per se only about #Terrorism in general.
Putin and Tump friends?
Putin and Trump are both strong men with extreme views. One gets a feeling that both men have a lurking admiration for each other. Both have praised each other though there has been some backtracking after that as both felt that it would not be a good idea to show the world they are friends. Putin in a press conference neatly sidestepped a question on Trump. Obviously, he did not want to put all his eggs in one basket and lose face if Trump lost the election.  Trump also has stopped calling Putin a strong leader. The fact is that Trump and Putin are chips off the same block and there is a good chance that in case Trump is voted in as President there could be a sea change in the US approach against Islamic extremist groups.
The future
The future is difficult to forecast, it all depends on the result of the general election. For all his bravado, Trump may lose and as things stand he trails the Democratic candidate Hillary by quite a few points in the Gallup polls. Yet these are early days and one can't really be sure as to the victory of Hillary. However in case Trump rides into the white house one can see increasing cooperation with Russia against militant Islam. Both Putin and Trump see Islam itself as the great danger. Setting aside differences, China also is against Islam and is the only nation in the world to have banned fasting during the month of Ramadan. The Muslim world is silent against China.  If Trump wins he will take the help of Putin against Islam and terrorism. But one hopes he is not led up the garden path by Putin who is known as a shrewd manipulator.