Saudis capture 19 on charges of terrorism in Medina
Saudi Arabia has arrested those responsible for the attack on Medina. Twelve were Pakistanis and seven were Saudis.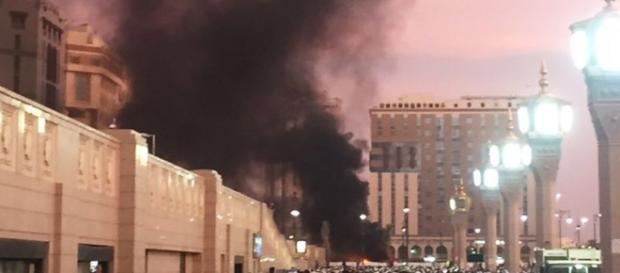 With the end of Ramadan, the Islamic state has stepped up their endeavors in terror attacks. Saudi Arabia has captured twelve Pakistanis and seven Saudis regarding the suicide bombing on the mosque in the city of Medina and different assaults in Jeddah and Qatif. With the botched plot in Kuwait and the suicide bombing in Baghdad, the Islamic state has called on every one of its troops to strike fear in the hearts of the individuals who do not follow their ideology, including other Muslims.
Suicide bombing in Medina.
Suicide bombing hit the Saudi city of Medina. The suicide bombarding in Medina came amid nightfall supplications at the mosque where Islam's Prophet Mohammed is revered and which draws in a large number of the devout every year.
The Saudis official announcement.
In a official announcement, The Saudi Interior Ministry said officers became suspicious of a man heading for the Prophet's Mosque through a parking area. "As they attempted to stop him, he exploded himself with a suicide belt, crausing his death and also (took the lives of) four policemen," the announcement said. Theer were five other who were also injured. 
The focus on Medina brought on boundless shock, both in Saudi Arabia and over the Muslim world. The head of Saudi Arabia's Shura Council, the kingdom's principle government consultative body, called it an "uncommon" occurrence.
Where is Medina?
Medina is the second holiest site in Islam and is second only to Mecca. Medina defined as the "City of the Prophet," is in the Hejaz area of western Saudi Arabia.
It was to Medina city that Muhammad fled on a ''Buraq'', an Islamic mythical creature, when he was first kicked out of Mecca, and the spot where he pulled in his first devotees. Medina has a population of around 600,000 and is the home of The Prophet's Mosque.
Isis called for war on Saudis.
The Islamic State group released videos in December 2015 calling for attacks against Saudi Arabia and vowing war against the Arab monarchy after it announced the formation of a 34-member Muslim coalition to combat #Terrorism. In a new execution video, fighters accuse the Saudi kingdom of joining a coalition of "crusaders" and challenged the nation to send troops into Syria to fight them, classifying them as being tainted by the west.
Beheading of Shiite citizens.
One of the videos shows a fighter encouraging the beheading of Shiite citizens in Saudi Arabia, followed by the gruesome execution of an alleged Saudi spy. The video flashes to scenes of galloping horses and gun battles. It is hard to believe that the terror group waited so long to execute their threats.
Conclusion.
In conclusion, the world needs to band together to combat this plague of the earth we call the Islamic State. Islamic countries need to send more troops to Syria and Iraq to help the coalition, and the Kurdish forces to rid the world once and for all of these misfits. Together, we can finish the task. The terror group has committed war crimes against humanity along with genocide. Finishing the job would only take a short amount of time, despite the claims of #ISIS. #News