Music Review: Australian singer Grace Sewell
This girl has a voice that's so timeless, it takes you into a soul journey of life.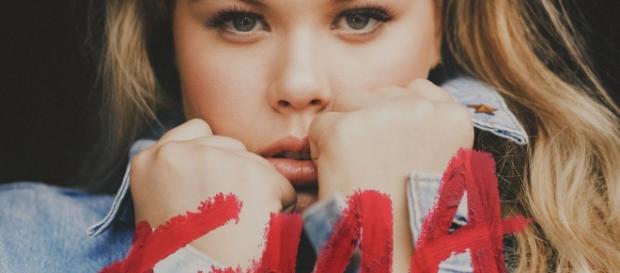 Need new music?
Have you come across looking from your iPhone #Music app thinking you need new songs [VIDEO] that give you positive energy for the day? Do you want songs that can make you dance when you're going out on a Friday night clubbing with friends? You may listen to jazz or other types of music that can smooth out your daily routine or a dance track that can pump you up for tonight. Well, we all have this experience with selecting music from the iTunes Store.
As I was on the iTunes store, glancing through new albums that's been released, there was an album called "FMA," its short for Forgive My Attitude by an Australian singer named Grace Sewell.
I decided to take my listening ears to an edge and see if this singer is any good. I clicked on the album from the iTunes Store, I see 14 tracks, two songs that features singer Parker and another song with rapper G-Eazy. I did previews of all of them and after the track two preview "Hell of a Girl," I could not believe the voice of this girl.
I drastically went on YouTube and listened to the CD track by track. After listening the whole album, I give Grace Sewell's voice in three words: soul, sassy, and swagger. I kept the album on repeat until my head could not hear more. I was shocked that this girl has a voice that's not just amazing but very powerful. Her voice is similar to my favorite all-time artist Brandy and early 90's Beyoncé but with more soul and a new face. It's such a soulful album that relates to our millennial generation.
In the millennial generation, we tend to have struggled with relationships, we tend to be uncertain in what we want in life and finding oneself. We get ourselves caught up in these things because we think that this makes us happy. In all honesty, we need to have confidence and independence for ourselves, not having to depend on someone else to do our job. With her voice, she brings us ballads that plead for wanted love and realizing independence for oneself.
This artist has put herself out in public and came out with a single "You Don't Own Me," featuring American rapper G-Eazy. This is a Lesly Gore cover that she decided to add a little bit of hip-hop to. This single has over 50 million plays on Spotify and is now No. 1 outside the US which makes her stand out from other artists. You can tell this girl is going somewhere.
Get the album
We all know how the music industry is continually emerging with upcoming artists. But with this artist's phenomenal voice, it can get her somewhere and trust me, she will get there in no time. If I was you, go to the iTunes store and buy the album because it's worth every penny.