It's time to see Georgia O'Keeffe's flower paintings as just flower paintings
Tate Modern museum's O'Keeffe retrospective is trying to get people's minds off sex when viewing her work.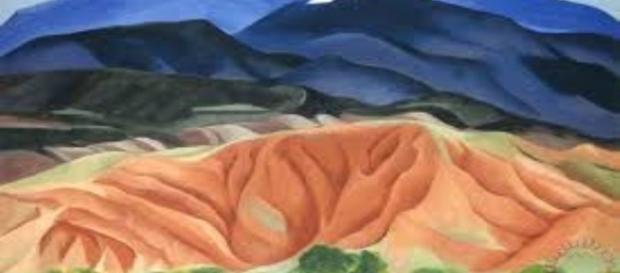 This is one of those 'you've got to be kidding' stories. In April, a teacher at a middle school in Battle Creek, Michigan, Allison Wint, was fired from her job because she referred to a part of the female anatomy in a discussion with eighth graders about Georgia O'Keeffe's flower paintings. Mind you, it wasn't as if she concocted the analogy. O'Keeffe's botanical portraits are so routinely described as effigies of women's genitalia that it's hard to see them any other way. Wint wanted to change the conversation. As she explained to the Detroit Free Press, she wanted to encourage her students to see O'Keeffe's works in other ways.
Time to challenge the parameters
And that's exactly what Tate Modern museum in London is trying to do with its 100-work O'Keeffe retrospective – spur multiple readings.
To achieve this, exhibit examples not only include her flower paintings, but also her New York cityscapes, New Mexico landscapes, skyscapes, and charcoal abstracts. "O'Keeffe has been very much reduced to one particular body of work," exhibits director Achim Borchardt-Hume told the press. "It's high time that galleries and museums challenge this."
O'Keeffe, who died in 1986, would have appreciated this show. As far as she  was concerned, when people read erotic symbols in her work, they're in their own heads. As if on cue, Adrian Searle, #Art critic for the Guardian, not only reiterated the stock view that the flower paintings resemble the female sex organ, he also spotted the male sex organ in O'Keeffe sculpture: "In form and size, this white plaster (later cast in lacquered bronze) is perhaps intended as a cloaked and hooded figure, or some kind of aspiring spiritual energy, but looks to me like nothing so much as a little erect phallus.
It is almost impossible to see it otherwise, in the same way many of O'Keeffe's early paintings remind us of female genitalia, labia, vulvas." Searle even picked out parts of female anatomy in the folds of her pictures of hills and eggplants.
Was O'Keeffe's husband a male supremacist?
Reviews like that can dash Tate's hope for multiple readings. And the fault may lie with O'Keeffe's husband, photographer Alfred Steiglitz, who originated the idea that her flowers look like vaginas. He even took the argument further and generalized about all art by women: "The woman sees the world through the womb.That is her deepest feeling. Mind comes second". O'Keeffe didn't even accept praise for her work if couched in terms of gender.
But if her paintings aren't about sex, what are they about? She told whoever would listen that "form, color and, pattern were more important than subject matter." As for her focus on flowers and their presumed resemblance to sex organs, she told NYT art critic Emily Genauer "I hate flowers – I paint them because they're cheaper than models and they don't move."