Girl power: The new-girl squad. Part 2
What if both Theresa May and Hillary Clinton win the General elections?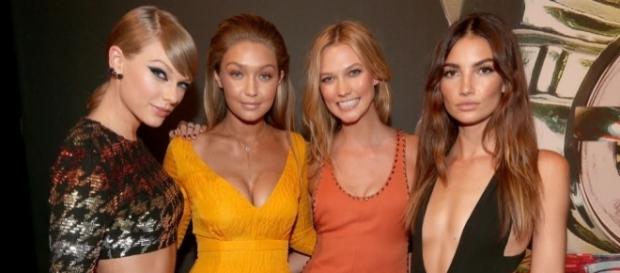 Taylor Swift and the girl-squad.
Whenever the word 'girl-squad' is mentioned one name comes to everyone's mind - Taylor Swift. She is considered a global icon and comes under the rank of  'music royalty' whose members consist of power-girls such as Rihanna, Beyonce Knowles, and Lady Gaga. The singer has become a part of the pop culture and articles like "How Much Does It Cost To Throw A 4th of July Party Like Taylor Swift" keep popping up showing the singer's standing and influence in society in general. Then Taylor Swift, in millennial terms, 'dropped' Bad Blood. It is with this song that the term 'girl squad', referring to a group of 'power' girls hanging together and being BFF's with one another, came into being. Only the privileged, the beautiful and the powerful girls can belong to the power- squad.  Without further ado Taylor Swift's 'girl squad' consists mainly of Gigi Hadid, Karlie Kloss, Cara DeLevigne, Lorde, and, sensationally, Kendal Jenner.
  The term 'squad' has become so famous that a new movie called The Suicide Squad (starring Margot Robbie of the Wolf of Wallstreet fame.) is going to hit the big screens across the United States and the world soon.
The Rundown: The women Prime Ministers of the world.
The first female Prime Minister and head of government in the world was Sirimavo Bandaranaike. She served as the Prime Minister of Sri Lanka, previously known as Ceylon, three times with her first term beginning on July 21, 1960. The second female head of government in the world was Indira Gandhi. She became the first female Prime Minister of India on January 24, 1966. The world's third female prime minister, and Israel's first, and head of government, was Golda Meir. The list of influential women who have held highest post in any government goes on).
There are, however, few women heads of government that truly stand-out.
Baroness Margaret Thatcher.
The Iron Lady Baroness Margaret Thatcher of the United Kingdom served as the Prime Minister for three terms (1979 - 1990 and, also, as the leader of the Conservative Party  from 1975 to 1990. She had resigned as Prime Minister and Party Leader in 1990 when other party members launched a challenge of her leadership. Ironically, David Cameron, a pro-Remain during the Brexit referendum, was also challenged for his leadership as the Party Leader and as Prime Minister by other party members such as the incumbent ex-Mayor of London Boris Johnson. #Election 2016 #Hillary Clinton #TaylorSwift