FBI investigation just tip of scandal-iceberg for Hillary Clinton
Evolving federal lawsuit over Clinton Foundation foreshadows endless Clinton scandals.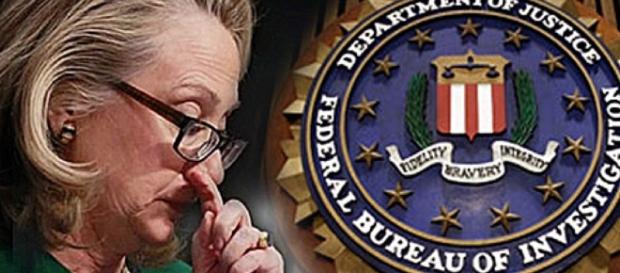 Hillary Clinton's handlers are suddenly nervous about the administration's ability, and perhaps willingness, to save her from a federal indictment. Bill Clinton's private meeting with Atty. Gen. Loretta Lynch last week bordered on political insanity and even mainstream media, ever tolerant of serious and embarrassing Clinton scandals, has lifted its lazy collective brow. Nevertheless, the bizarrely timed, inexplicably inappropriate meet-up between Bill and the woman who is presiding over his wife's criminal FBI investigation may be small potatoes as other Clinton scandals heat up.
Ongoing federal investigations of the ostensibly not-for-profit Clinton Foundation will dog the Clintons long after the 2016 election whether won or lost by Hillary, is in the books.
Last week a federal judge in a Freedom of Information case ordered thousands of emails to be released by the State Department that may contain evidence of secret moonlighting by Clinton and her operatives, including soliciting foreign donors for the Clinton Foundation while she was Secretary of State. Depending on what investigators discover in Clinton's secret schedule, the current FBI investigation may prove to be the least of her legal problems.
Judge orders emails released in Clinton case
At the heart of Wednesday's ruling is an investigation into whether Clinton operatives maintained an off-the-record schedule of meetings with Clinton Foundation donors that overlapped official business during her trips abroad. Evidence of influence pedaling to foreign entities as Secretary of State and any quid pro quos discovered during this and several similar investigations cannot be laughed off or explained as matters of convenience.
Even if the embattled Democrat is elected in November, investigations and scandals will not go away for many years.
Nixonian Clinton unlikable, untrustworthy
A year into the criminal investigation of Hillary by the FBI, even low information voters understand that Hillary probably exposed American agents, classified information and even top-secret documents to hide what she was doing. Bill Clinton certainly picked a suspicious time to meet with Loretta Lynch whom he appointed a federal judgeship when he was president. Given such a flagrant conflict of interest, Lynch should have ordered Bill off the plane immediately; her failure to do so disqualifies her as the lead prosecutor in Hillary's case.
Nevertheless, when investigators sift through Clinton's secretive schedules during four years at the State Department, the infamous, idiotic meeting between Bill and Lynch last week may seem relatively trivial. The lawsuit, brought by David Bossie, president of Citizens United (CU), may confirm suspicions that Clinton held clandestine meetings with foreign donors to the Clinton Foundation in order to peddle influence for big donations, all at the expense of taxpayers.
Judge Rosemary Collyer, the federal judge presiding over the public-records case brought by CU, at first refused to order the release of secret emails relating to Clinton's unofficial schedule during overseas junkets. However, last week CU produced enough evidence of potential wrong doing that Collyer relented and ordered all emails sent to and from Lona Valmoro, Clinton's State Department scheduler, in the two-week periods before each of 14 international trips, be released. Evidence submitted by CU includes a December 6, 2012, dinner in Dublin, Ireland, between Clinton Foundation people and alleged foundation donors. That particular dinner was organized by Teneco cofounder Declan Kelly. The dinner was not on Clinton's official schedule.
On Wednesday, the judge ordered 500 pages of Valmoro's e-mails released by the end of August with 500 more pages due every four weeks. Scandals have swirled around the Clintons like locusts for decades but the current crop of investigations have even raised brows at reliable #Democratic Party mediums like the New York Times, CNN, and the thee big television networks. #Election 2016 #Democrats vs Republicans