Cabbage Patch Kids technology-driven dolls
The new Kids' collection includes Country Girl, Trendy Girl & Surfer Girl.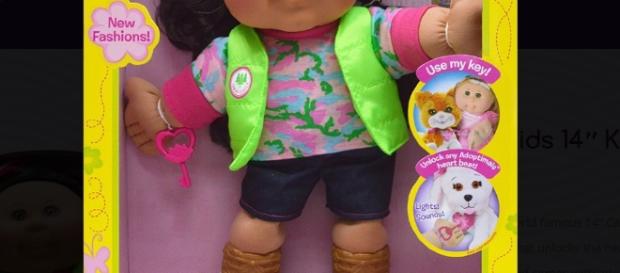 Wicked Cool Toys continues to develop their Cabbage Patch Kids line with technology-driven dolls. This review is of a CPK Kids doll.  
The packaging is the standard box with viewing window. The CPK Kids doll is 14 inches tall. This doll looks like the original CPK dolls except for the hair, this doll has long life-like hair. The doll comes in a variety of skin tones and hair colors, so there is a doll out there for every kid. Each doll comes with a birth certificate, name, and birth date. As with all of the dolls, this one has that special baby powder fresh scent that we have come to expect from #Cabbage Patch Kids. 
These dolls come with a bracelet with a heart shaped key that interacts with the Kids' newest friends -- Adoptimal Pets
The pets feature pet sounds, phrases, lights, a heart beat, and a heart-shaped locket.
These features can be unlocked with the Kids' heart key bracelet. The Kids' doll is for ages 3 and up. It retails for $34.99. The new Kids' collection includes Country Girl, Trendy Girl, Boho beach Girl, Surfer Girl, Soccer Girl, Cheerleader, two different Glitz Girls, and Baseball Boy. This line features nine new fashion themes. The interaction with the Adoptimals (purchased separately and retail for $19.99) adds a whole new dimension to these love able dolls.
The electronic Adoptimal pets are furry little friends just looking for their forever home. With four different types of pets to choose from you surely will find your perfect pair. Cabbage Patch Adoptimals include a special heart locket with lights and sounds, including barking, panting, and other happy sounds. When you pair up a Cabbage Patch Kid heart key with an Adoptimals locket you will unlock your pet's magical heart beat. 
Each Adopitmal includes a bowl and brush
Every Cabbage Patch Kid comes with adoption papers from Babyland General Hospital, and has a unique name and birthday.
There are some dolls that are exclusive to Rural King, Target, Toys R Us, and Nordstrom stores, but most can be found at all major retailers and online. If you had these as a child in the 80's, now is the time to introduce them to your own children. They still smell like fresh baby powder much like they did in the 1980's.