Andrea Tantaros back analyzing the news, but not reaching the masses in this venue
Fox News analyst Andrea Tantaros hasn't changed her opinions and while she's still sharing them today, she's not reaching the audience she once had.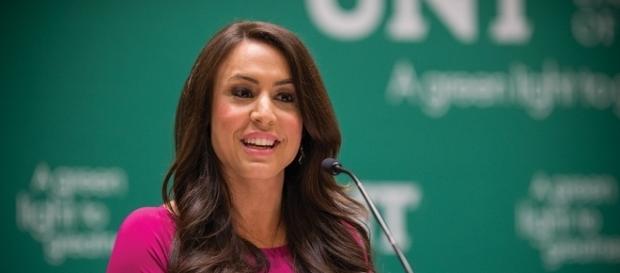 By now #FOX News analyst  Andrea Tantaros has probably heard through the grapevine that she's wanted in Hollywood, but all you have to do is take a look at Tantaros' Twitter page to see that exposing the corruption in this nation is what makes this political news analyst tick. Not to say she wouldn't wow them in Hollywood, but evident in her recent tweets, exposing the players in Washington for who they really are seems to be her first passion. Since her abrupt exit from Fox News people have tried to predict her next move, but Tantaros is about as predictable as the path of a tornado when it comes to what she will say and do next. This is just one of the many factors that makes "Andrea Tantaros" a popular search online today even after she's been out of her chair on the Fox News show Outnumbered since April.
Still taking on corruption
In her latest tweets she blatantly punches with "This is the most corrupt Administration in history," when pointing out that the writing was on the wall that the Hillary Clinton email probe was never going to amount to much as she sees this probe for what it really is.
According to Andrea that would be, "Full blown degeneracy of government as they all cover for her [Hillary Clinton]." She also suggests that the Director of the FBI, James Comey, sounded more like Hillary Clinton's "defense attorney" rather than the man trying to uncover the truth about her handling of classified information via her emails. 
Tantaros takes a swipe at Obama and how he's no longer based in reality when it comes to the horrendous events of the day. Andrea's got Hillary and the elite club running Washington today pegged for their deeds. Not to mention Tantaros points out the many felonies committed during the email debacle that will never see the light of day in a courtroom. 
While having the Andera Tantaros Twitter page to turn to when wanting to hear her take on the events of the day is better than not hearing from her at all, this is a far cry from seeing the highly-regarded news analyst go into these topics in detail on air.
When she was first ousted from her chair on Outnumbered it was under the tag of a hiatus due to contract issues, which was the Fox News explanation for her exit.
Time to revisit the too-much Trump theory?
Many thought her disappearance might have something to do with her overwhelming support for, Donald Trump, and as time goes by, this is something you may want to revisit. You have to admit since her departure Trump has lost a high-profile supporter's voice on-air. While Fox News carries on with a mediocre appearance of supporting the GOP candidate, there's not a lot of over the top support for Trump going on.
Tantaros' support for Trump not reaching masses
Her support for Trump is still visible in her social media posts, but she is no longer reaching the masses while making the case that Trump is what this country needs when it comes to fixing what is broken. Whether this was intentional or not on Fox's part, they've stifled Tantaros when it comes to reaching the millions she once did by not having her on the air.
Was her support for Trump just too much for Fox News?
Let Tantaros win round of musical chairs
On Tantaros' Twitter page she still has the title of "Co-host of Outnumbered" and "FNC political analyst" under her name. It's been a while since she's been seen on Fox, but it appears she still identifies herself as belonging to that show and network. With that said, it is quite feasible that one day at noon you may tune into Outnumbered and see Andrea back where she belongs. That day will have two benefits, with the first being Tantaros reappearance of course and the second would be to see Meghan McCain lose that round of musical chairs and get pushed along off the air!