The Oakland Raiders belong in California
The Raiders should remain in California because the essence of the team was built in California and would not fit anywhere else.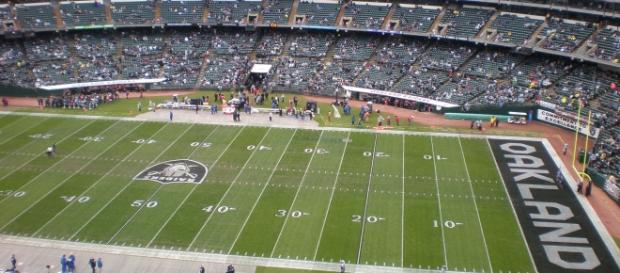 No place like home
Yes, the Oakland Raiders belong in California and not in Nevada or anywhere else in the world. In fact, the Raiders belong in good old Oakland where they have earned their reputation as being the Raiders. The tough reputation that exists within the essence of the team started in the City of Oakland and should stay there.
That toughness that emerged in Oakland for the Raiders cannot blossom in Las Vegas. With no disrespect to Vegas, the Raiders do not belong there, because Las Vegas has its own toughness. That toughness has nothing to do with what the Raiders are about. This might not make any sense, but the Raiders essence lies in California.
Taking the Raiders outside of that would basically kill that essence.  
See, the Raiders have history in California, which includes two cities — Oakland and Los Angeles. Due to the fact that the Raiders belong to two different major cities in California, the spirit of the team should remain in the Golden State of America. Also, the Raider Nation exists throughout the whole country but the heart of it is in Oakland. It was once in Los Angeles, but it now remains in Northern California and should stay there. Still, a lot of love persists for the Raiders in LA.
Move to Las Vegas a gamble at best
Now, owner Mark Davis has spoken of moving  to Las Vegas and is treating it like it would act as a middle ground for the Raider Nation. Davis thinks that Las Vegas, Nevada, would keep both Oakland fans and LA fans happy since it would be a city that falls right in the middle of two groups that make up most of the Raider Nation.
Instead, Davis is completely wrong with this idea, because the Raider Nation was born in California.
Again, the Nation's heart remains and mostly dwells in the state of California. Heck, even if the Raiders move to San Diego, if the San Diego Chargers decided to leave and share a stadium with the Los Angeles Rams, the Nation would be more understanding than Las Vegas. It would be a crappy situation, but it would be better than the Raiders being a Nevada team.
San Diego is what the Raider Nation calls a second home. Everyone knows when the Raiders play the Chargers in San Diego, half of the spectators at the game are Raiders. The Nation rolls deep in San Diego and, if the Raiders moved to San Diego, it would not be that bad. The only bad thing about that situation is that it would leave a bitter taste knowing that San Diego was once the home of the Chargers. Hopefully, that will not happen.
In the end the Raiders belong in Oakland and that is that. Davis should do whatever he needs to do to keep the spirit of the Oakland Raiders in the City of Oakland. It is simply a legendary team of the league and needs to remain there. At best, if there is a move, the Raiders should leave for LA. #Football #NFL