Muhammad Ali remembered in film: When He Was King
Documentary details the 1974 title fight between champion George Foreman, challenger Muhammad Ali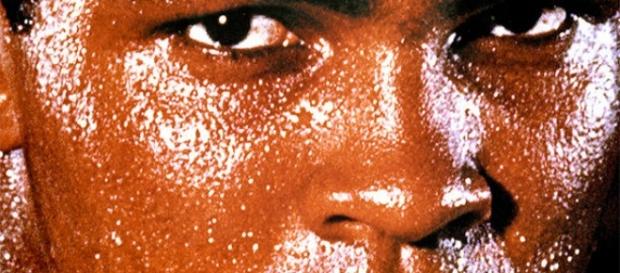 Since his June 3 death, many sportswriters and social commentators have written eloquently about Muhammad Ali. Some of the writers met the extroverted boxing champion and in some instances, like Dave Anderson, the senior columnist for the New York Times, they reported on dozens of the heavyweight's fights.
But what of younger sports fans or millennials in the general public?
Maybe the first time they saw Ali was when he was handed the Olympic torch by swimmer Janet Evans and he ignited the final Olympic flame in the opening ceremonies of the 1996 Summer Olympics in Atlanta.
Ali: Olympic Ceremony Hero
Ali was shaking, the affects of his advancing Parkinson's disease.
But he was stoic and the moment is often is often cited as the greatest opening ceremony in Olympic history.
Perhaps even younger people only know of Ali in more recent years, when the now legend made a rare public appearance, his stare blank, his voice a whisper. The knew nothing of his bravado, his refusal to fight war, his showmanship, his skill.
As a sports fan and young sportswriter, I only Ali knew from his fights on Wide World of Sports and when he verbally jousted with broadcaster Howard Cosell in the 1960s and 1970s.
I learned more about Ali (and gained considerable respect for him), while watching the 1996 documentary film, "When We Were Kings." The film includes fascinating interviews and showcases the feelings of a nation when Ali, the challenger, when to Zaire, Africa, to fight the the undefeated titlist George Foreman.
It was called the "Rumble in the Jungle."
Ali, a Muslim, was a hero to the nation. Foreman traveled with a German shepherd, viewed not as a pet but as enforcer against the public. The film is riveting, intertwining interviews with boxing luminaries, sportswriters, authors, political figures and details the landscape of public. It viewed Ali as nothing short of a savior.
One brief scene in the film defines Ali. An interviewer asks the boxer about his quickness. Ali looks into the camera and says "Want to see it again?" Ali hadn't moved, but the interviewer didn't know and nor did anyone else, except Ali.
"When We Were Kings," is available on Netflix and via other video outlets. #News #Documentaries