Baroness Warsi and a toxic EU debate
Warsi cites the presence of hate and xenophobia along with the constant ignoring of facts for quitting the leave campaign.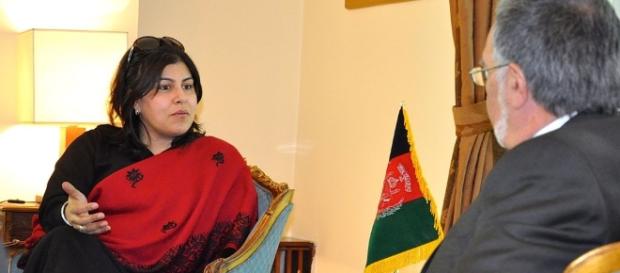 Baroness Sayeeda Warsi, the former chair of the Conservative party has today revealed that she will no longer support the Leave Campaign. She cites a culture of hate and xenophobia as the main reasons for withdrawing her support. This news comes in the aftermath of the murder of Jo Cox, a member of parliament for Batley and Spen constituency. Since then, the Remain Campaign has gained ground that it had previously lost to the Leave campaign. Warsi stated that the positive side of the campaign consisting of academic argument and sound facts has been consistently ignored by the leaders of the Leave Campaign. Specifically, it would appear that there have been problems with UKIP's leader, Nigel Farage.
Breaking point.
On the day of Jo Cox's murder, the UKIP leader revealed a highly inflammatory poster showing refugees and migrants with the caption "Breaking Point" suggesting that the UK has become too full. It is easy to sympathize with Baroness Warsi, as in recent months both sides of the campaign have gotten closer to polling day the policy of project fear and the reluctance to use facts have led to a rather ugly political debate. It is hard to ignore how certain statements that were previously sensitive have become the norm. Being able to openly criticize migrants and refugees for, "scrounging off our benefits system" and "taking our jobs," has allowed hate and xenophobia to become rampant. This is not the Britain I have known previously!
EU referendum.
When people you know suddenly come out with hateful statements, you often have to ask yourself how these statements came to be in the first place.
The answer is of course from the EU referendum debate and its soundbites. With only three days left to campaign, it is highly doubtful that this will change before the end. However, we as a country should surely reflect on this debate and in many cases hang our heads in shame at the level of inhumanity shown to those are in desperate need of help.
Democracy & compassion.
As an internationalist liberal democracy, we should do our best to be involved in the world, help the poorest and encourage development. By being members of the EU and being decent human beings, we can prosper and grow into a more equal and just society that does not tolerate hate and xenophobia. #World Politics #Foreign Affairs