A murder mansion makes the Met's topmost exhibit space
A Hitchcock-inspired house of horrors is installed on the museum's roof.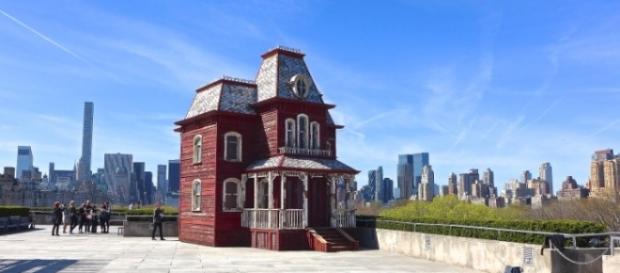 This can't be good. Looming on top of the Met is a realistic rendition of the Bates family home - the Victorian house of horrors in Alfred Hitchcock's 1960 film Psycho. Cornelia Parker, the British artist credited for the work she calls "Transitional Object (PsychoBarn)," told the press that it's "a celebration of American culture."
Heading for the showers
She was referring to the use of red barn material in the making of the house, but you're not likely to think of agricultural buildings when you see PsychoBarn. Hitchcock's movie deemed the most famous slasher movie of all time, is more likely to play in your head, complete with the ghastly three-minute shower scene of bloodletting to the tune of screeching violins and cellos from the movie soundtrack.
If this doesn't happen, you probably didn't see the movie.
But wait, maybe Parker is on to something without knowing it. Murder and mayhem seem to be the American way. Only last week, a sixth-grade boy in Houston, Texas was fatally stabbed while walking home from Marshall Middle School. PsychoBarn, then, seems a questionable exhibit and no association with a leading Art museum makes it art.
Riding the rails
PsychoBarn can't be viewed as art even despite its distant link to an Edward Hopper 1925 painting of an actual Victorian mansion in upstate N.Y. titled House by the Railroad, which inspired the design of the Bates' house. Parker acknowledged her awareness of the painting, making her stagecraft derivative twice over.
This isn't the first time the Met's rooftop exhibit appears out of place.
In 2013, Pakistan artist Imran Qureshi dripped random drops of red paint on the rooftop floor to look like spilled blood and called it And How Many Rains Must Fall Before the Stains Are Washed Clean?
Modern architecture spoiled the picture   
Without a question in its title, PsychoBarn poses one anyway: why do we associate creepiness with Victorian architecture, which was once all the rage in the U.S.? According to art historian Sarah Burns in an article for American Art in 2012, we didn't link the gingerbread look of the Victorian to menace until the '30s when modern architecture's sleek, spare, slick look showed up and dated the old style as yucky. Burns wrote that people started to detest the Victorian style and spoke of it not only as "creepy." but also as "monstrous."
Americans took their revulsion pretty far. The house of the bizarre Addams family, the massively popular cartoon by Charles Addams, was Victorian. So on seeing PsychoBarn if you don't think of the Hitchcock movie or the Hopper painting, you're sure to conjure up the Addams Family characters, Gomez, Morticia, Uncle Fester and Lurch who lived on Cemetary Lane between a graveyard and a swamp with a sign on their front gate that warns, "Beware of the Thing."