FBI investigation at end game; Clinton snaps at Sanders supporter
FBI investigation moves forward fast and furiously; Clinton blasts Sanders supporter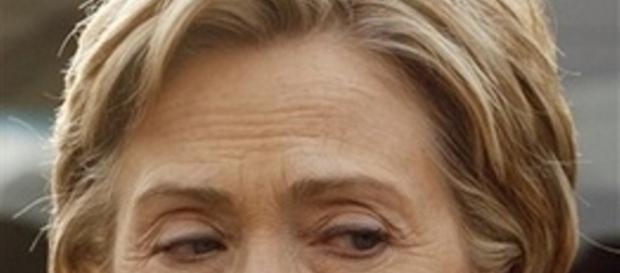 Hillary lost her composure Friday and began pointing and yelling at an environmental activist -- perhaps the ugly display was acute anxiety over the end game FBI investigation that is concluding at a fast and furious pace. "I'm so sick of the Sanders campaign lying about me," Clinton yelled while jabbing her finger at a female Greenpeace activist in New York. The lady simply asked Clinton if she would "reject fossil fuel money" while fundraising. Clinton was visibly angry as she hurried away after her heated remarks.
FBI/State Dept. prosecutors meet
Today, the FBI instructed the State Department to put a hold on its internal investigation of Hillary Clinton's unsecured emails, signaling that interrogations of aides and the former secretary of state herself are close at hand. State Department spokeswoman Elizabeth Trudeau said, "We do not want our internal review to complicate or impede the FBI probe. We are prioritizing the law enforcement investigation."
FBI will compare answers to evidence
Translated, the FBI and Justice Department prosecutors are satisfied that they know the answers to the questions they will ask Clinton and her cronies.
Clinton aides or state officials' who plan to fall on their sword for Clinton's "convenience" may want to rethink that strategy in case they wind up sharing a cell or wearing matching ankle bracelets.
Clinton's case goes to the heart of national security, and shines a rather harsh spotlight on Clinton's personal pathological aversion to truth, even when it potentially puts Americans in harm's way. Exposing classified information to second-rate hackers seems to have been the norm for Hillary Clinton when she headed the State Department.
As president, Katie bar the door.
Over the past year, scores of FBI agents have gone over 52,000 pages of Clinton's so-called private email in great detail and came across 22 "Top-Secret" documents so sensitive they could not be released to the FBI, media, or public. A separate ongoing internal review by state is being conducted to determine if those documents were mishandled by Clinton, her aides, or officials in the State Department.
Thousands more emails that Hillary Clinton sent or received contained classified information, according to the State Department.
The FBI, because its investigation is ongoing, has not released any details about its year-long investigation or information gleamed from Clinton's unsecured email server that she stored in the basement of her home throughout her tenure at the State Department.
Once again, a Clinton clogs up U.S. legal system
The Clinton's are once again center stage in the largest investigation of a political figure since Bill Clinton was caught lying to the American people about enjoying pizzas, cigars, and Monica Lewinsky in the comfort of the White House.
Bill Clinton's poll numbers went up as Hillary helped him manage. Soon, it will be Hillary's turn to tell the FBI what her definition is.