Degas' printmaking draws pictures of misogyny
He takes graphics to radical ends in more ways than one and not all are pretty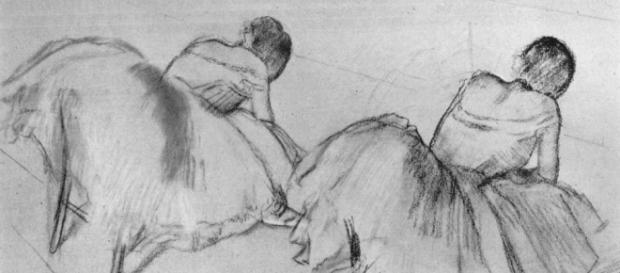 The strange thing about the Museum of Modern Art's new Degas show "A Strange New Beauty" is that the artist's disdain for women gets a pass.   
New York's treasure house of the avant-garde focuses solely on Degas' printmaking process. And unless you're an artist hell-bent on "taking the medium to radical ends," as Degas efforts are described in MoMA's exhibit notes, it's hard to imagine who will care. Whatever art is, technique can't be the main event.
Ballet was not Degas' main interest
And whatever Degas' art is about, it's not what it's commonly thought to be about.
Even though half of his body of work is about ballet, dance wasn't the subject. Like the Impressionists of his day, he sought to capture movement. What better subject for that than dance?
Degas freely acknowledged that dance wasn't his focus in this often quoted remark to his art dealer, Ambroise Vollard: "People call me the painter of dancing girls. It has never occurred to them that my chief interest in dance lies in rendering movement..."
Degas' work suggests he disparaged women
His professed "chief interest" didn't always show up in his drawings of dancers.
One of these called "L'Attente" describes a lineup of ballerinas sitting nude on a bench with widespread legs that expose their genitals. Obviously movement had nothing to do with such as image. Degas was also given to picturing dancers doing unbecoming things like scratching or yawning.
Despite his focus on women, then, Degas tended to make little of them, depicting them in awkward positions and either faceless or shown from the back and indistinct, one from the other. What we see, then, are women as compositional props.
No wonder the 19th century art critic J.K. Huysmans saw Degas' "attentive cruelty, a patient hatred, debasing the female while seeming to honor her." Degas practically admitted this when he said, "I have perhaps too often considered woman as an animal."
Apart from dancers, Degas liked to describe women in their private moments like washing or drying themselves, which seems straight out voyeuristic. Degas probably wouldn't deny that impression. In his words, he aimed to steal the look of a woman as if "looking through a keyhole."
Is great technique enough?
All that said, MoMA's show succeeds in portraying Degas as a great technician.
It's a wonder though how anyone can look at his work and not  see that he enjoyed putting women in unflattering light. Art News magazine hails the Degas show as "sumptuous feast for the eyes" – oblivious to what the eyes are feasting on.
Of course, if the point of the MoMA show is to demonstrate how modern Degas was for his innovations in printmaking, his take on women -- no longer idealized as she had been throughout art history – would also make the case. Degas certainly knocked her off the pedestal that artists in the past put her on.