The Bernie Sanders rallying cry - art world style
A new exhibit at the Whitney Museum of Art is about acoustics, not art.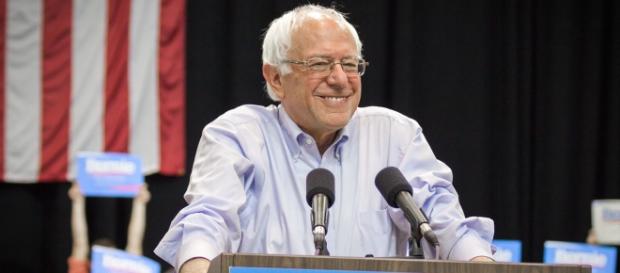 Taking over the extensive fifth floor of the Whitney Museum of American Art in New York - all 18,200 square feet of it - is an exhibit you can't see. Behold, the "art" of Andrea Fraser, a University of California art professor known for writing an essay in place of making art for her exhibit example in Whitney's Biennial four years ago. Apparently she doesn't like to get her hands dirty. In place of visual art for her current show, she offers sounds, and not just everyday sounds like bird songs or the roar of an ocean. What she offers are sounds of a maximum security prison like Sing Sing. What she offers are acoustics.
The rationale for an art museum's non-art exhibit
Why? Apparently by embedding what's heard behind the walls of the big house behind the walls of a treasure house shows up how the art world and the prison world are worlds apart, As she told the Huffington Post when her essay served as her exhibit in the 2014 Whitney Biennial, a lot of wealth has flowed into the art world, "amassed at the expense of the public sector, through regressive taxation, as well as at the expense of a broader increase in income levels." 
The Bernie factor
All of which makes Fraser a one-issue activist not unlike Bernie Sanders' crusade against income inequality. Fraser titles her audio show "Down the River," which is a play on the term "up the river," alluding to Sing Sing's location on the upper Hudson River.
In that sense, the Whitney in lower Manhattan, is down the river. She She told The Guardian that she thinks of  museums and prisons as "the bookend institutions of our increasingly polarised society – institutions that celebrate freedom, and institutions that revoke that freedom".calls the two institutions "bookend of our increasingly polarized society – institutions that celebrate freedom, and institutions that revoke that freedom".
The way Fraser talks, you'd think social issues have gone unnoticed in visual arts including movies.
But fully 84 years ago, "20,000 Years in Sing Sing" starring Spencer Tracy made Fraser's very point and very pictorially – the very stuff of visual art. To convey the contrast between the dehumanizing of the jailed by jailers, the movie spins a crazy quilt of inmate Tracy's dispirited facial expressions over time superimposed over the rigid prison routines. Point made and artfully, too.
Art museums that get it right
If you want to make social statements in a visual art museum, you ought to do it by making visual art.
An art museum isn't a town hall. A 2014 show at the Weatherspoon Art Museum in Greensboro, N.C. showed how it's done with an exhibit of paintings and drawings under the title "Inequality and Social Justice in a Changing World." And last year, the Frye Art Museum in Seattle presented Rodrigo Valenzuela's solo exhibition, "Future Ruins" also with visual art. The issues that Valenzuela explored took in migration, labor practices and income inequality. And get this, the museum reported that collectors were particularly struck with how the artist dealt with thorny issues while not disregarding art issues.
Why would a professor of art disregard art issues? Ah, the answer comes: Fraser is a performance artist, which means, instead of visual art, she gives you vaudeville.