Witness two objectionable things happening together, a kind of one-two punch to the art world's gut. Not only does a famous artist vulgarize another famous artist's devotional painting, but a famous museum pays homage to the vulgarization. The impious artist is Salvador Dali who took the image of the peasant couple in Jean-Francois Millet painting "The Angelus" bowing in prayer over a basket of freshly-picked potatoes and turned it into a dirty picture.
Sullying a spiritual image
Both paintings are set in the late afternoon when shadows are longest. Dali, ever the Surrealist, used the eerie light of day's end to enhance his hallucinatory perspective. The paintings are similar. In both, the couple is backlit and in silhouette, except in Dali's version, the figures are elongated to suggest tall buildings. A further departure is not readily apparent, but once you read what Dali intended, it's likely that you'll never see the painting in the same way again.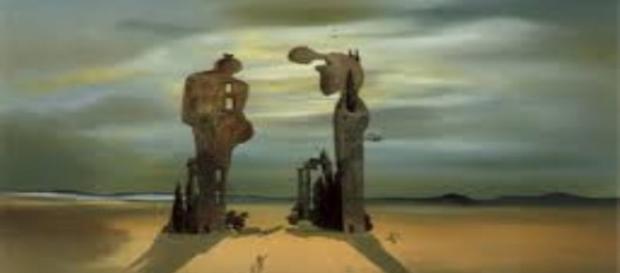 Wait til you hear what Dali did
In a collection of Dali's writing about his Angelus painting titled "The Tragic Myth of Millet's Angelus," he explained that the male peasant, who Millet portrayed with reverential hat in hand, is really using the hat to hide sexual arousal. And the female also is erotically-charged in anticipation of sodomizing him before cannibalizing him.
Granted, such a phantasmal fantasy isn't all that different from Dali's other works, like his images of Hitler he titled "The Great Masturbator." Besides, as he famously pointed out, "There is only one difference between a madman and me.
The madman thinks he is sane. I know I am mad."
OK, that's his excuse. But what excuses the Dali Museum, the Florida treasure house said to hold the largest collection of the Surrealist's paintings outside Europe, when it glorifies Dali's vulgarization of Millet's work by creating a virtual reality movie tour of the painting? It's not as if the museum didn't know Dali's intent. It was not only plainly written in "The Tragic Myth of Millet's Angelus," the museum published that intent nearly three decades ago.
More than that, giving museum goers a virtual reality tour of the painting deprives them of the very thing that mesmerizes them about Dali's work – his ability to create dreamscapes with photo-real depths of field on a two-dimensional surface.
When a museum gets the art of painting wrong
Unaccountably, Dali Museum director Hank Hine told the press, "I wanted to take art off the palette, out of the canvas and into the world."
If museum goers wonder what it would be like to step inside Dali's dream, it's their question to answer.
It's their imagination that conjures it up. Seeing the illusion of space in a computer simulation is at a cross purpose with sensing the illusion on canvas. Virtual reality tours don't make a painting more real. Simulated reality is no substitute for the real thing.