Pres. Obama deploys more troops to Iraq after US casualties
Obama, criticized for leading from behind, reacts to Saturday's death and casualties by sending 'undisclosed' number of troops to Iraq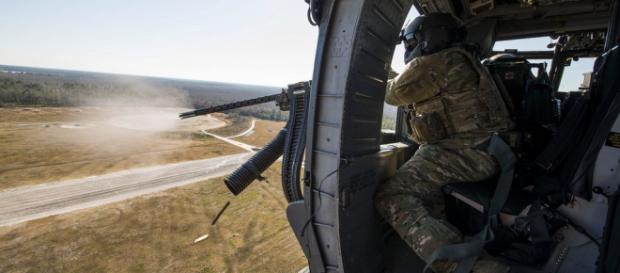 Pres. Barack Obama, often criticized for "leading from behind", is leading from behind again in Iraq in the wake of an Islamic State rocket attack that killed a US Marine and seriously injured others over the weekend. The administration is now sending more US troops to the war-ravaged country; however neither the White House nor the Pentagon would say how many additional troops are being deployed, according to a Fox News report published yesterday.
The rocket attack that prompted the administration's latest reaction to current events in Iraq occurred on Saturday in the town of Makhmur, which is located in northern Iraq about 75 miles southeast of the city of Mosul, where ISIS holds a vice-like grip.The Iraq-bound US troops are being formed as a detachment from the 26th Marine Expeditionary Unit to support Iraqi troops and will be involved with international ground operations, according to the Pentagon.The number of troops being deployed will likely be significant since the Pentagon has publicly named the new US task force Operation Inherit Resolve.
When Administration retreated from Iraq, ISIS moved in
Against the advice of most military leaders in the US, President Obama ceased combat operations in Iraq in 2011. Within four years ISIS swarmed into Iraq and captured huge swathes of the country, including its second-largest city, Mosul. ISIS and other enemy combatants chased Iraqi troops from their posts and seized their stockpiles of often US-made vehicles and weaponry. Iraq's military forces, rife with defections and dereliction, have been unable to effectively regain control of the country and the Obama administration's battle strategy in the region has been woefully impotent, according to many experts.
Pentagon sources say the Marine who died is Staff Sgt. Lewis F Cardin of Temecula, California. It is unclear if the seriously wounded troops will recover from their injuries. Cardin was a member of the Second Battalion, Sixth Marine Regiment, 26th MEU out of Camp Lejune, N.C.
One reason Pres. Obama is said to be leading from behind is because of his promise that there would be no "boots on the ground" in the war against Islamic State, the terror group also known as ISIS. Some say Mr. Obama should not have publicly announced the withdrawal of US forces from Iraq years in advance.
In the same way, former generals and many experts and pundits have criticized him for promising ISIS that he would not put "boots on the ground" in Iraq to fight them. After much delay, Mr. Obama has begrudgingly admitted that ISIS began committing genocide, this as he deploys more US troops.
To date, Mr. Obama has redeployed about 3,700 US troops in Iraq ostensibly to advise Iraqi forces on the ground there. With each deadly attack on US forces, the administration risks increasing criticism for its feckless policies in the region.
Weeks ago, the Pentagon deployed a brigade from the 101st Airborne Division to relieve troops from the 82nd Aiborne Division. Meanwhile, the Pentagon released a statement saying that Saturday's assault seriously wounded less than five soldiers, but did not not elaborate.
"It was a lucky strike by ISIS," the official said.The Marine was only the second American killed fighting ISIS since the Obama administration jumpstarted combat operations in August 2004