Friends of both Nancy and Ronald Reagan would often remark about how deeply and passionately they loved each other, even after decades of marriage, a rare thing indeed in a world where half of all marriages end in divorce. The love story of the greatest president of the 20th Century and the actress and dancer whom he met in the early 1950s would make a great subject for a movie if Hollywood cared to make it. But the romance of Nancy and Ronald Reagan also changed the world.
Without her, there might not have been him.
Nancy Reagan encouraged her husband to go into politics when his acting career met its inexorable end in the early 1960s. Ronald Reagan remarkably ran for the office of governor of California and served for two terms. It was she who suggested that he might make a great president of the United States. She encouraged him to run again after his defeat in 1976. Ronald Reagan won the presidency in 1980 and went on to restore the American economy and then win the Cold War.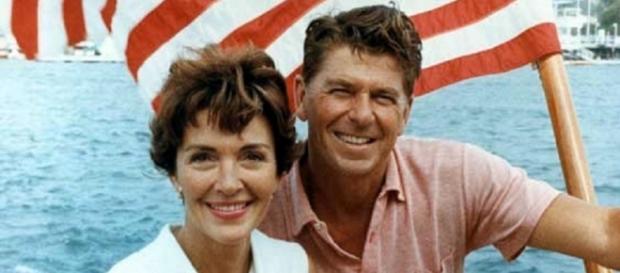 The love she bore for the president was sometimes hard. She would see him vilified and lied about by little men, who sought to make themselves greater by tearing down the great. She would see him gunned down by a madman just a few months into his presidency but then fight back from the brink of death. She too had her share of vilification and lies during the 1980s.
The hardest thing of all came after the Reagan presidency when the awful diagnosis of Alzheimer's was made.
Ronald Reagan took ten years to die of a disease that took his memory, then his intelligence, and then his self. She was his caregiver during what was called "the long goodbye" and then had to mourn him in public when he finally passed into the afterlife. She lived almost another 12 years without him.
Now, it is hoped, that when she closed her eyes for the last time Sunday morning, March 6, 2016, a lifetime since that glorious summer of a presidency, she opened them to see the wry smile, that ironic grin that charmed the world and won her heart.
Nancy and Ronald Reagan are together again at last.
Click to read more
and watch the video