Golf Should Scratch Donald Trump From Its Scorecard
The presidential candidate owns courses, hosts pro events despite sport's concerns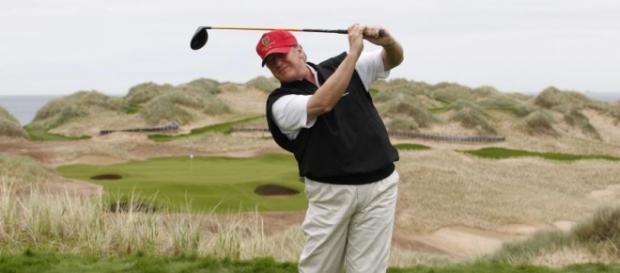 The PGA Tour is not perfect. Like any professional athletic organization, it has lots of egos and television contracts and compromise. Like every other major pro sport, money rules.
The PGA Tour is refreshing, however, in many ways, not the least of which is its non-violence and its competitive uniqueness. Unlike football, basketball and baseball, golfers have to excel to get paid. Guaranteed, multiyear contracts do not exist.
But the PGA Tour also has one major current issue. His name is Donald Trump.
The bombastic, front-running presidential candidate owns golf courses around the world, including the current stop on the PGA Tour. The WGC-Cadillac Championship is being held this week at the Trump National Doral Resort in Florida.
Trump took ownership of the resort four years ago. He usually arrives at tournament in typical fashion — with as much fanfare as possible — on his signature-dominated helicopter.
According to a report in the Wall Street Journal, the billionaire's arrival method at the tournament this year may change, considering the current presidential race.
Golf's Rulers Have Issues With Trump
Last summer, the PGA Tour and three other national governing golf organizations, the PGA of America, the U.S. Golf Association and the LPGA, announced together a "distancing" from Trump's controversial remarks about immigration.
Last December, the PGA Tour said it would re-evaluate the now 53-year relationship it has with Doral as an annual stop on golf's biggest circuit. Tour officials said in a statement at the time:
"Mr. Trump's comments are inconsistent with our strong commitment to an inclusive and welcoming environment in the game of golf."
The PGA Tour and corresponding organizations should act quickly on their beliefs.
Future World Golf Championships and both the U.S. Women's Open in New Jersey and Senior PGA Championship in 2017 are scheduled on Trump-owned golf facilities.
In his interview with the Wall Street Journal, Trump said he hasn't had much time to play golf. He was as also quoted saying "I love golf."
What the article didn't address is another pending issue: What would Trump say if he knew a Muslim or a non-citizen arrived at one his courses to play or at one his resorts with money to spend? It's likely, like the PGA Tour, money would override convictions.
Spokesmen for at least two golfing organizations said in the Wall Street Journal the Trump situation is being "monitored." Trump's response: "I have binding contracts."
If golf's governing organizations don't want to appear as inconsistent, as vague, as biased as Trump, they will sever their relationships with him promptly.
And if any further reasons are necessary, consider Trump's repeated comments about his enjoyment of the game.
He told then newspaper, "I love golf, but let me tell you, when you finish making a speech in front of 25,000 people, you're not in the mood to play golf. It's a completely different mind-set."
That statement gives credence to a notion that Trump doesn't quite love golf for the game, but rather the money it generates for his empire.
The reason: Playing golf after speaking to 25,000 people seems like a perfect thing to do. Golfers who love golf will play anytime.