Golf carts aren't just for golf
Golf carts get more use as local transportation than for playing golf.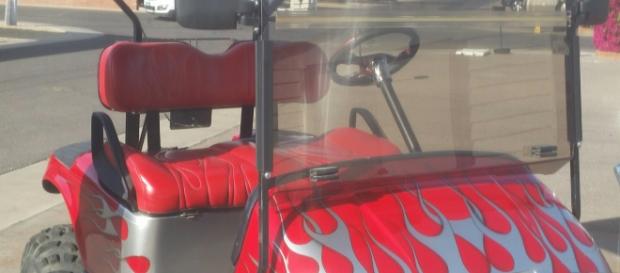 I used to think golf carts were only used in the game of golf. However, after moving into an RV park in Arizona I have found out different.
Main mode of transportation             
Golf carts are the main mode of transportation.  Everyone has one.  They use them to go for coffee.  They take them to the laundromat,  trips to the pool and back as well as just going for a cruise.
Snow birds
Most people in these parks are retired and just stay here to avoid the cold winter in their home towns.  Arizona, like Florida gets a huge influx of people in the winter months.  These snow birds come by the thousands and bring their golf carts with them.
At first I didn't understand the love for these carts.
 Then by accident I became the owner of one.  It's another story, but in short, I took the golf cart in a trade.  I hoped to resell if for a profit. 
We were hooked
However, before selling it my wife drove it around the park and became attached.  She said we are not selling it.  I had to agree.  By this time I liked the idea of using this instead of the car.
Ours is gas powered, has a stereo, windshield, and lights.  What more could you want?  With the golf bag attachments out of the way you can haul lots of stuff around with you.
Customized carts
People treat these like cars.  They paint them with flames, install fancy wheels, and add all kinds of options.  I don't think any of these carts ever goes to a golf course.
I got excited about the possibilities; a hot rod, classic car, or low rider cart.  The prospects are endless.
I need lots of carts
I was so excited I bought four more golf carts to play with.  I painted them and tweaked them.  One even had a bed on the back like a pickup truck so I could haul more.
Eventually I came back down to earth and realized I didn't need five for transportation.  It was fun, but I started selling them to other people in the park.  However, I am hooked and I will always have at least one on hand.
Still learning
It's amazing what you can learn when you move into a different area or socialize with different people than your norm.  I would never have thought I would want a golf cart.  I haven't played golf my entire life. 
It still seems strange, but it is fun.  Every day I learn something new.