Former Republican presidential candidate Ben Carson has officially endorsed Donald Trump in a joint announcement this morning from Trump's Mar-a-Lago estate in West Palm Beach, FL. Carson explained that the two had "buried the hatchet." "There are two different Donald Trumps, said Carson. "There's the one you see on the stage and there's the one who's very cerebral, sits there and considers things very carefully." This comes as a shock to many of Carson's supporters since Carson's mellow rhetoric and Trump's boisterous persona seem at odds with each other but it does highlight the strength of Trump's campaign strategy.
Strategy: the reality show offensive
Reality shows are entertaining because of the characters at the center of them, and the best way to keep a character interesting is to create a constant stream of controversy that keeps your name in the press. Kim Kardashian-West is an example of this. She entered the spotlight with a sex tape and then kept the fodder going with her reality show "Keeping Up With The Kardashians." She then followed that up with two marriages -- one that lasted for 72 days-- two children, and countless nude selfies and pictorials.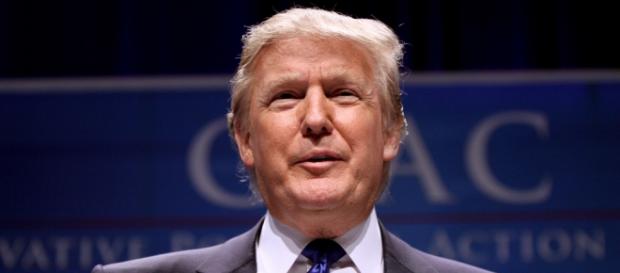 Trump inherited millions, became a real estate mogul and parlayed that into a successful reality show, "The Apprentice." He then entered a bid for the Republican presidential nomination.
Each time Trump's political rivals launched an offensive against him, Trump countered with a new controversy. When Florida Senator Marco Rubio demolished him in the Republican debate in Houston, Texas on February 25th, New Jersey governor and former Republican presidential rival Chris Christie endorsed him the next day.
When Texas Senator Ted Cruz defeated Trump in the Idaho Republican primary on March 9th, Trump got Carson to endorse him two days later. 
Chris Christie wondering what he is doing here #chrischristie #DonaldTrump #trump #curby... (Vine by @emagvas) https://t.co/e6zYWSGOoe

— James J. Gorman (@jamesjgorman) March 2, 2016
Strategy: rivals into allies
Part two of Trump's strategy is turning rivals into allies. Christie was not shy about his disdain for Trump during his campaign.
In an interview with Fox News' Greta Van Susteren, Christie said, "Donald's a great guy and a good person but I just don't think he's suited to be President of the United States. I don't think his temperament is suited for that and I don't think his experience is." 
Conversely, Trump viciously attacked Carson's failed campaign and even attacked Carson's biography, "Gifted Hands: The Ben Carson Story."
"@coloradojoe2001: How is any one taking Carson seriously when he "suspends" his presidential campaign for a book signing tour?"

— Donald J. Trump (@realDonaldTrump) October 27, 2015
The Carson story is either a total fabrication or, if true, even worse-trying to hit mother over the head with a hammer or stabbing friend!

— Donald J. Trump (@realDonaldTrump) November 6, 2015
.@CarlyFiorina Ben Carson said in his own book that he has a pathological temper & pathological disease. I didn't say it, he did. Apology?

— Donald J. Trump (@realDonaldTrump) November 13, 2015
So with all of the vitriol leveled between these three candidates, why would they throw their support behind Trump now?
Many speculate that it's because they want to assure themselves a place in Trump's cabinet. Christie's political career is all but over. The state of New Jersey is $153.5 billion in debt and six New Jersey newspapers -- all owned by Gannett -- have called for Christie's resignation. Carson's previous career was as a medical doctor but he has his eyes set on politics. In last night's Republican debate from the University of Miami in Miami, FL -- where Trump first revealed Carson's endorsement -- Trump detailed how he had spoken to Carson for an hour about education and that Carson would be involved in that sector of his campaign.
"I'm going to have Ben very much involved in education, something that really is an expertise of his," said Trump.
So, effectively, Trump won by allegedly promising his enemies a political office in exchange for support. Couple that with the constant controversy and you've got a hard opponent to stop because he turns everything into a positive.
Click to read more
and watch the video