After Super Tuesday, Trump and Clinton are the most dangerous people in America
An analysis of what happened on Super Tuesday and where Clinton and Trump stand in the eyes of American voters.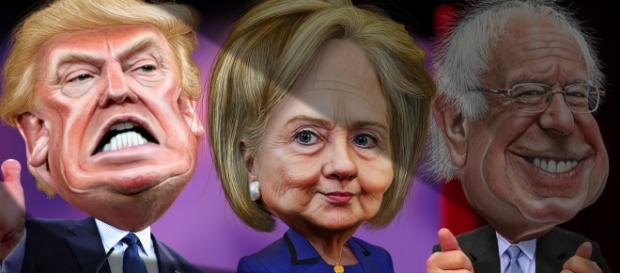 There are two front runners in the 2016 Presidential race, Donald Trump and former secretary of state Hillary Clinton. Every now and then you might hear other names like Florida Senator Marco Rubio, Texas Senator Ted Cruz, Dr. Ben Carson or Vermont Senator Bernie Sanders, but none of these contenders have been able to knock either Clinton or Trump off kilter. Sanders bested Clinton in New Hampshire, Vermont, Colorado and Minnesota and Cruz won in Oklahoma and Texas, but Clinton and Trump won big. They each won seven states. Time is running out and opponents and opposing voters are getting scared.
On Super Tuesday 13 states and one territory held primaries. There were 595 delegates up for grabs for the Republican party and 1,015 delegates for the Democrats at stake. Trump had 82 delegates and Clinton had 91 before Super Tuesday. After the results, Clinton amassed a whopping 1,034 delegates and Trump garnered 319 delegates. They need 1,237 delegates and 2,383 delegates, respectively to win their party's nomination. If you do the math, the Democratic nomination is all but over. Sanders only has a paltry 408 delegates and it's nearly impossible for him to secure the nomination. However, Trump still has a close race on his hands with Cruz taking second place with 226 delegates.
What Went Wrong
Prior to Super Tuesday, the focus was on discrediting both Trump and Clinton and characterizing them as inconsistent and willing to say anything to win their party's nomination. On February 24th, a #BlackLivesMatter activist accused Clinton of flip flopping by saying that she supported a "three strikes, you're out" policy during her husband former president Bill Clinton's administration. Following a backlash which led to #whichhillary trending online, Clinton apologized for her words in a statement to the Huffington Post.
"In that speech I was talking about the impact that violent crime and vicious drug cartels were having on communities across the country," she said. "I shouldn't have used those words and I wouldn't use them today." 
#WhichHillary? Does she support racial justice or mass incarceration? #NotASuperpredator https://t.co/OX7LdM5oNh pic.twitter.com/sRWDHvafqQ

— Millennials 4 Bernie (@Bernlennials) February 25, 2016
Trump was slammed by both Cruz and Rubio and has drawn the ire of the internet and TV news.
Rubio infamously took down Trump at the Texas Republican debate, accusing him of using illegal Polish immigrants to build his towers and then running a campaign platform against illegal immigration. The internet is abuzz with doctored videos of Trump appearing in "The Honeymooners" and "Game of Thrones" as a blowhard and a tyrant, and on Sunday night on "Last Week Tonight With John Oliver", the show's host took on Trump revealing his family name to be Drumpf not Trump and called him "a litigious, serial liar with a string of broken business ventures and the support of a former Klan leader (David Duke) who he can't decide whether or not to condemn."
The Aftermath
Of all of the Trump takedowns, Oliver's was the best, but it was also the most twinged with fear.
Opponents of Trump are definitely afraid of the possibility of President Trump. He has already drawn the ire of the outlying world with his comments about making Mexico pay for the wall to keep immigrants out and many internet memes are comparing him to Adolf Hitler. Searches for "how can I move to Canada" went up 360% after Trump's Super Tuesday win. There is a sense of danger, danger enough to trigger a mass exodus from what many people believe is the greatest country in the world. America's fate rests in the hands of two people, two people who the country can't agree to love or fear.
Searches for "how can I move to Canada" on Google have spiked +350% in the past four hours #SuperTuesday

— Simon Rogers (@smfrogers) March 2, 2016