What's wrong with young girls in the fashion industry?
What damage is being done to young girls who are allowed to behave as women?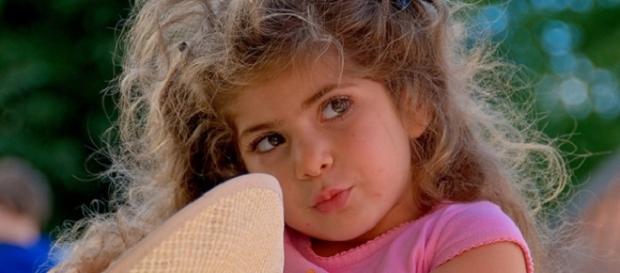 There's no doubt that the fashion industry has come under a lot of scrutiny each time a new up and coming under-age model is presented to the world.
Have things gone too far when children as young as 10 are being signed for a lucrative modelling career, though?
Russian born, Kristina Primenova, has already worked with Armani and Dolce & Gabbana.
Her modelling career started when she was just three
Add to this another rising star, Kaia Gerber, Cindy Crawford's daughter, who at the tender age of 14 has just signed with IMG and is the face of Chrome Hearts.
Echoing her mother's stunning features, Kaia Gerber, says that growing up in the shadow of her supermodel mother gave her the desire and drive to become a model herself.
But portraying children, especially young girls, in a sexual manner doesn't stop at the door of the fashion industry.
In 2008, the Australian Federal Government, ordered a Senate enquiry into the Sexualisation of Children.
The enquiry concluded that a lot more needed to be done to educate parents and develop awareness of the damage caused by allowing young girls to wear clothing that was not age appropriate, in particular.
In particular, skimpy bikinis for toddlers and children, and shorts for girls which were significantly shorter in the leg than those for boys are an issue.
It points to something drastic occurring in our society.
The Project, a popular current affair show, recently highlighted the stark differences between apparel for girls and boys questioning the motives of big name suppliers.
Boys shorts came down to the knee, had deep pockets and were functional. Girls shorts were pretty, had flowers on them and were 3 to 4 inches shorter in the leg.
So what are we doing to our children?
Jesinta Campbell, who won Miss Universe Australia 2010 and represented Australia at Miss Universe 2010 and placed 2nd Runner-Up, is appalled at children as young as 10 being used as models.
She stated in a recent television interview that she wasn't allowed to enter modelling until she was 17 and that this gave her the emotional strength to survive in a highly competitive industry.
The real danger in the premature sexualisation of children is the link between inappropriate clothing and wearing makeup at an early age, for example, and depression, reduced self-esteem, eating disorders and, more concerning, premature sexual activity.
It is this writer's opinion that young girls need to learn how to play outside in the dirt. They need to scruff their knees and knock about with other children in cubby houses, fish for tadpoles and play sports.
Even companies like Mattel have developed more realistic Barbie dolls to help lift girls' self-esteem and reflect public concern.
Girls don't need to be made into icons by a superficial industry; but instead should be studying to become talented, well-balanced and creative beings that make a significant and notable contribution to their culture and their community.