Men should plan a trip to Cibo Wine Bar
Grilled Cheese Happy Hour event of South Beach Wine and Food Festival highlights beautiful venue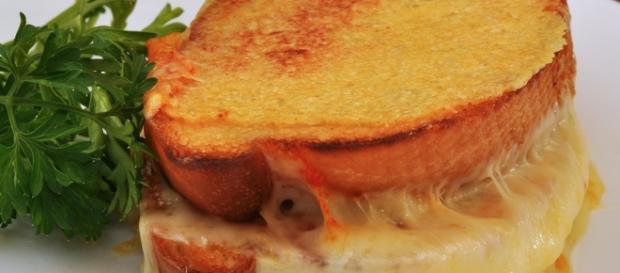 Cibo Wine bar was the venue this evening for the Grilled Cheese Happy Hour hosted by Miami favorite Ms. Cheezious and cheese expert, Ms. Laura Werlin for the South Beach Wine & Food festival. Ms. Cheezious and Ms. Werlin supplied samplings of some of their favorite grilled cheese dishes and it's obvious that every man should learn how to make a proper grilled cheese sandwich. Tasting the Double Cheedar with Tomato jam or the Cubano grilled cheese, the grilled cheese dish is no longer a childhood dream that one grew out of in adulthood. The trays of samples disappeared quickly with event-goers scrounging employees as soon as they began to walk the floor.
Grilled Cheese isn't a childish dish
Each bite released salty, buttery sensations over the tastebuds and the crunch of the bread satisfied the ears. California-based Noble Vines supplied the wine and while most went with the Cabernet Sauvignon to warm up in the open air terrace, the Chardonnay also fit as the sun didn't go down until well into the event. The setting on the third floor of the wine bar provided a beautiful view of sun drenched eastern facades and the shadows of the western buildings.
There was a mix of residents rollerblading, jogging, and skateboarding together with the cars getting to their destinations. 
Everywhere in Miami is a treasure
A man needs to get to Cibo way before he meets a group of friends here so that he can find parking. He should count on parking far away from the locale or prepare to battle with other cars to get street parking or in the parking garage to get a spot. Southpointe Drive deserves to be walked in to so that the walk itself can give inspiration, anticipating the night ahead.
The walk will be a moderate one so be aware of shuttles, buses, or taxis that can help with the trek. When the sun goes down, the lights of the lanterns at Cibo go up and Miami Beach feels like an island away from the mainland. This feeling is one of the beautiful things about living and residing in Miami.