Jordan Spieth Is Helping Sport Save Itself
Golf's No. 1-ranked player is polite to a fault and now has a bobblehead doll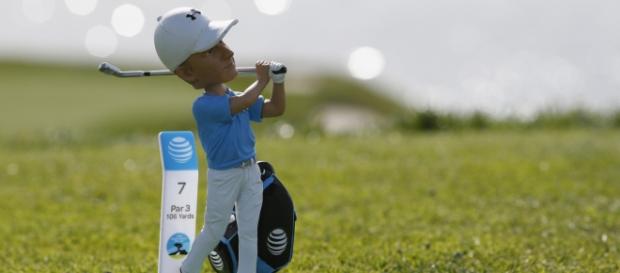 Jordan Spieth represents everything right with the game of #Golf.
The reigning Masters and U.S. Open winner is 22 years old and is playing this week in his first full field PGA Tour event of the season at the AT&T Pebble Beach National Pro-Am on the famed Monterey Peninsula.
Jordan, who four years ago played in the event via a sponsor's exemption and had no tour playing privileges, is now also the world's No. 1-ranked golfer. Last season, he lead or was near the top of more than a dozen statistics categories. He lead the PGA Tour in earnings.
As the youngest of a half-dozen young players and rookies succeeding on the PGA Tour, Spieth provides a rare combination of maturity and youth.
The day prior to the start of the AT&T tournament, Spieth spoke at a press conference with his amateur playing partner for the week, country singer Jake Owen. Before media questions began, a public relations official from the PGA Tour asked Spieth about the newly created Bobblehead figure created in his image. It was distributed to 8,000 spectators at the tournament.
A sample of the statuette of the golfer and Owen had been placed on the dais, and Spieth was pleased. He called the idea, a creation of his sponsor, AT&T, awesome and cool. He is, after all, 22 years old.
But within a few minutes, Spieth also talked about the history of golf. He called Arnold Palmer, one of the game's greatest players, Mr. Palmer. Spieth talked about visiting Augusta National, the home course of The Masters, with this father last summer.
He viewed the trophy that now bears his name as both the runner-up and winner of the tournament.
Spieth talked about his game, and then there was a question from the back of the room. It's unique when another PGA Tour player interjects himself into another golfer's time before the media. But on this occasion it was Jason Day, the Australian currently ranked No. 3 in the world. Spieth and Day both won by PGA Tour events last season and have a friendly rivalry.
Day teased Spieth, detailing how the golfer's caddie was going to have to carry him all week in the event's pro-am competition. Spieth briefly teased back but then became a beacon of golf's gentlemanly ways.
He told Day it was would be an honor to play with him on Sunday, a reference  to the two golfers playing in the final round together and in the lead. Neither player is currently near the lead of the tournament, but the exchange was another example of Spieth's character.
As a young man, he's traveling the world on private jets. He's stays in the best hotels and is catered to by corporate presidents.
And yet the world's No. 1 player is polite, nearly to a fault. With all of the chaos in the world of sport, the drug abuse, the spousal abuse, the overblown egos, Jason Spieth represents none of that. He is what is right with sport. #iPhone #Celebrities