Tonight is part two of CNN's town hall featuring presidential candidates, Donald Trump, Jeb Bush and John Kasich. Kasich is expected to be a mostly forgettable candidate, leaving the debate squarely focused on Trump and Bush. Both candidates have garnered a lot of bad press over the past week but it seems that the negativity has hampered Bush and helped Trump. Here is what former Florida Governor Bush has to overcome.
The "America" Tweet
On February 16, Jeb Bush visited the FN Manufacturing plant in Columbia, South Carolina.
This was important because America is in the midst of a gun rights battle with the recent rash of mass shootings terrorizing the country and because South Carolina Governor Nikki Haley ran her gubernatorial campaign on the platform in 2014 of bring manufacturing jobs back to America. 
Enter the FN Manufacturing plant. Jeb Bush toured this plant in effort to show solidarity with manufacturers. His present from the company was a gun with his name engraved on it.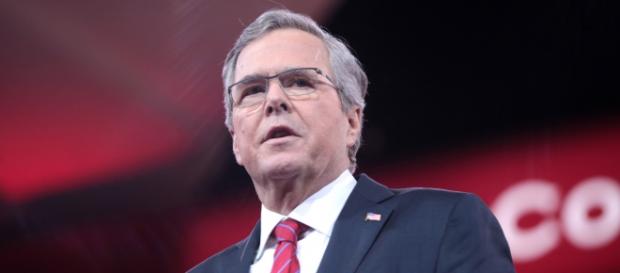 Unfortunately, he tweeted a picture of the gun with the caption,"America". Twitter did not respond well.
America. pic.twitter.com/TeduJkwQF3

— Jeb Bush (@JebBush) February 16, 2016
People lambasted Bush for his insensitivity to the lives lost due to gun violence. 
Pictures of guns don't kill people. Politicians using pictures of guns to endorse unrestricted gun ownership kill people.#jebbush #america

— paul bassett davies (@thewritertype) February 17, 2016
However, they forgot that Haley put herself in hot water previously when she toured the very same facility in 2013 and was photographed shooting a array of weaponry including a FNX-45, a FNX-9 and a machine gun. It's an obstacle that Trump will likely bring up but it can be overcome if Bush plays his cards right.
The Rubio Endorsement
Speaking of Haley, she's been spending the week stumping for Bush's Florida and presidential rival, Senator Marco Rubio along with supporters Senator Tim Scott and Representative Trey Gowdy. This is obviously a move that hurts Bush since the only endorsement that he's been touting lately is the support of his former President brother, George W. Bush and his mother Barbara Bush.
The Trump Effect
Trump seems to get a pass for divisive rhetoric.
Today's controversy is Trump's comments in response to the Pope calling him "not Christian". Trump responded with a facebook post attacking the Pope, touting that if ISIS attacked the Vatican that "the Pope would have only wished and prayed that Donald Trump would have been President".
The obvious problem that Bush has is like-abilty. Trump may say controversial things, but Americans and especially conservatives, see him as a leader. He is currently leading former Governor Bush by over 20 points in 3 polls, The Monmouth University poll, the Bloomberg Politics poll and the South Carolina Republican Caucus.
Conversely, people do not see Bush as a leader. Why? Because believe it or not, Trump has a personality that is similar to George W. Bush, which would explain why former Gov. Bush needs his help.
Part two of the town hall airs tonight on CNN at 8 p.m. EST and is moderated by Anderson Cooper.
Click to read more
and watch the video