How will Rick Scott or Nikki Haley fare as Trump's VP
A closer look at what each governor has to add to the vice presidential office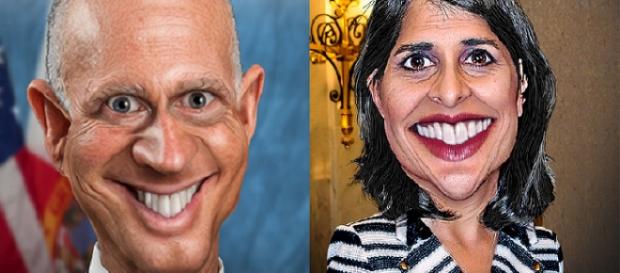 The web has been abuzz with speculation as to who Donald Trump's Vice Presidential nominee will be. In past weeks, the focus has been on South Carolina Governor Nikki Haley but speculation shifted to Florida Governor Rick Scott when Haley endorsed Trump's Republican rival Marco Rubio. Here's a look at what both Haley and Scott have to offer.
Nikki Haley
Governor Haley's number one campaign focus has always been job creation, particularly in the manufacturing sector. She's brought Boeing and 3i Products to the state and 15,100 people started new jobs in South Carolina just in December 2015, a .75% increase according to Current Employment Statistics (CES).
She's also had a tumultuous year with a mass shooting that killed nine in Charleston and later led to the removal of the Confederate flag, which stood atop the statehouse for 150 years prior. Then there was the monster storm that left South Carolina flooded and seeking federal aid. Through it all, the Republican party has been impressed with Haley resiliency, allowing her to deliver the Republican response to President Obama's last State of the Union address in January 2016.
Rick Scott
Rick Scott has more in common with Trump given both of their troubled pasts.
Trump has declared bankruptcy four times but has been able to parlay those failures into a successful reality show and a legitimate presidential bid. Scott was a former CEO of Columbia/HCA when it was fined for 1.7 billion in Medicare fraud before he was elected governor of Florida. This makes both Scott and Trump underdogs, a fact which Scott touted in his January 2016 article in USA Today. "I won the governor's race in 2010 and many outsiders -- some of them business people -- continue to shatter the political establishment by coming into elected office from careers outside of politics," said Scott.
Like Haley, Scott touts job creation.
He promised in his campaign run to create 700,000 jobs and he's mostly kept his promise by creating entry level jobs in the hospitality, health service, transportation, and utilities sectors. 
The middle ground
Both Scott and Haley are creating jobs for their state. Both have overcome a slew of state problems but their focus is on the lower class. While not paying attention to the lower class has been a major complaint in previous elections -- and that sector should not be ignored -- America is facing the demise of the middle class and with Trump speaking for the upper class and either Scott or Haley speaking for the lower class, who is left to speak for the middle class?
Immigration
Trump has been very vocal about deporting illegal immigrants and having Mexico pay for the wall to keep illegal Mexican immigrants out.
How will this stand with the first Indian American governor (Haley) and a governor (Scott) with a 23% Hispanic population,15% of which are of Mexican origin? In Haley's case, she already stated that she is for legal immigration. "I am the proud daughter of legal immigrants -- emphasis on the LEGAL. My parents played by the rules and waited their turn. They are offended -- as am I -- by those who try to backdoor the system and come here illegally," said Haley in her book, "Can't Is Not an Option." Scott, however, is on the fence.
In 2013, he vetoed a bill that would give illegal immigrants drivers licenses but in 2014, he passed a bill that allowed immigrants to pay in-state tuition.
In either case, Trump still needs 1156 delegates to win the Presidential nomination. The VP nod is on the back burner for now.