More needed from Mario Balotteli
A strong win, a decisive performance by both Honda and Bacca, means that Milan found strength where they needed it most.  A team out of European competition for three seasons now. With a string of strong performances, a roster that includes such young talent as De Sciglio, Bonnaventura, and Bacca, the question remains: where does that leave the once superb talents of the Sicilian born Mario Balotteli?  Since his arrival from Liverpool last summer, the Italian International forward has just made a few appearances within the first half of the 2015-2016 season before sustaining a groin injury that rendered him on the injury list for most of this year so far.  But, with his supposed full fitness coming to fruition, head coach Sinisa Mihaljovic found himself in a precarious position in Sunday' night's game against Genoa.  
Despite the victory, Milan head coach lost his nerve toward the end of the match, as ironically, the off loaded Alessio Cerci scored a goal against his former club who were ahead by two goals, creating a grueling and intense few minutes before the final whistle was blown.  MIhaljovic tried hard not to criticize the 25-year-old Balotelli, but his lapsed defending and sluggish movement down the pitch allowed the former Milan Winger to score a late goal that could have cost the San Siro giants a valuable three points.  With a season well under way before the European Championships start in June, most players in the league would give their all to make their national team's final cut.  But Balottelli seems unmoved by his chances of missing out on Europe's top prize this summer.  Now, with Milan doing well despite the once christened "Super Mario," what does this mean for his chances of cementing a place at Antonio Conte's side this summer?
"Super Mario's" chances dim?
From an objective standpoint, Balotelli's chances look dim at best. With Simone ZaZa fulfilling his duties masterfully as Juventus' clutch striker, and El Shawaray proving his return to Italy is a joyous second coming, Balotelli could at best join his national team in a speculative role.  Balotelli is struggling against some of the younger and brighter stars in his league at the moment, with Pavoletti, Eder, and Insigne making the top 10 list of this season's top leading scorers.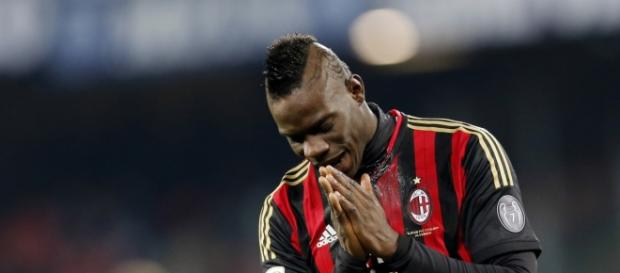 Balotelli has not even scratched the all-crucial 10 goal margin for a striker of his caliber, and with just 4 goals to his tally, the next few months will prove ever more crucial for his chances of achieving international attention in France.  ZaZa proves that you do not have to be a starting striker in every match to prove yourself valuable, with each game, his stature as an integral part of the bianco neri side grows ever clearer. Balottelli has this same potential in him, but there seems to be something holding him back from achieving the levels he once had just a few years ago.  
Balottelli is player who needs consistent motivation to bring out the talents he so naturally possesses.
With a multitude of strikers to choose from, Conte will have to make some difficult choices before he decides on his official 23 man roster in June. ZaZa, Eder, Verratti, and Pavoletti are all top-notch players with much still to prove. Napoli FC has a strike force alone that could carry Italy to the heights of European glory this summer, with both Gabbiadini and Insigne providing much of Higuain's goals during their Seria A campaign. Nothing will be easy for Balottelli as he now must prove his worth and return to form for the next few months of this season.
Click to read more
and watch the video