Coachella Valley in California is the birthplace of the alternative band known as IIIZ (pronounced eyes). They have been playing together for around four years, producing a combination of rock, EDM, and hip hop music. The band is comprised of four members: Ison Van Winkle, Mari Brossfield, Jacob Gutierrez, and Ross Murakami.
Their music consists of eccentric sounds that showcase their innovative and invigorating talent. IIIZ put a lot of energy into their live performances, making them an exciting act to see on stage. Their performances include stage lasers, co2 cannons, and heavy fog machines for an undeniable experience of fun. They are set to play songs from their upcoming yet untitled album at live concerts in the USA and Canada this year. IIIZ's album is expected to be released before the summer.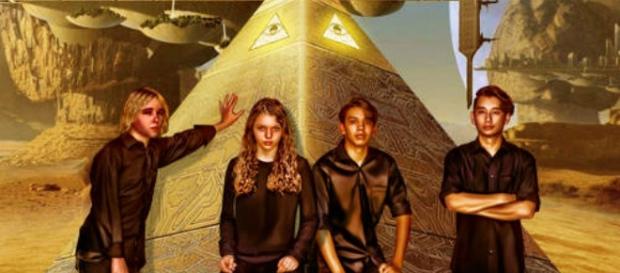 Vocal Display
The lead singers of the band are Ison and Mari. Their singing has the qualities of punk-rock music, with sort of a flat execution of high and low notes. These vocalists have a forceful impact, with their profoundly melodic tones and highly energetic delivery. I believe they have the capacity to excite listeners with their animated vocal production, although they could use some improvements. The way they transition between notes could sound better if they did so in a smoother fashion. Overall, they are a decent pair of singers with very harmonious sounds.
Favorite song for vocals: "Sugar"
Instrumentation
All the band members make tasteful contributions to their songs with a handful of instruments. Jacob plays the bass guitar/key bass, and Ross plays the drums. Ison and Mari are in charge of the keyboards. The instrumentals are dramatic and a little retro, with stylings of 1980s heavy rock. They produce an energy that is a blend of fiery, flamboyant, and fun-loving traits. The musical makeup seems to be highly inspired by the digital world of idiosyncratic sounds that are magnetic in essence. There's no denying the youthful spirit strongly present throughout their album's instrumentation.
Favorite song for instrumentals: "Epic Dreams"
Lyrical Essence
What I admire about this alternative band is their incorporation of rap lyrics in the opening song "Get Away." They are thrillingly confident and edgy, which pairs well with the unconventional sounds of the instrumentals. In general, the lyrics are poetic and very picturesque, displaying an engaging flight of imagination. The lyrical essence is so whimsical and flashy that it is quite challenging to decipher the meaning of most songs, with most of them written by Ison. On the bright side, the lyrics showcase nicely the visionary that Ison is, with his collection of abstract conceptualizations.
Favorite song for lyrics: "Get Away"
Final Thoughts
I give this album an 8 out of 10 rating. IIIZ's passion pervades the music in every song with explosive intensity. This group sounds like they are seriously trying to make a name for themselves as nonconformist musicians. Take pleasure in listening to their album with the link below.