Since John Cena is out with an injury, Vince McMahon and the WWE are scrambling to figure out a match big enough to headline WrestleMania 32 in Dallas. With WWE Royal Rumble 2016 designated as the first stop on the Road to WrestleMania, there's no better way to build to a huge Mania main event than an epic Royal Rumble Match.
Despite such big names as John Cena, Randy Orton and Seth Rollins out with injuries, the WWE has been hard-pressed to find men on their roster that are a believable threat to win the 30-man battle royal.
WWE World Heavyweight Champion Roman Reigns and former champ Brock Lesnar are seen as the clear favorites. While WWE has started teasing that Bray Wyatt is a real contender, there's not as much excitement about the Rumble as there has been in years past.
Nonetheless, WWE has the resources to pull off an epic Royal Rumble Match, which is what they need to get the WWE Universe revved up for WrestleMania. Here are five things they could do to make this year's Rumble Match a classic:
Bullet Club/Balor Club takeover
The Internet Wrestling Community wouldn't allow the WWE to remain silent about the recent signings of NJPW talent AJ Styles, Shinsuke Nakamura, Luke Gallows, and Karl Anderson.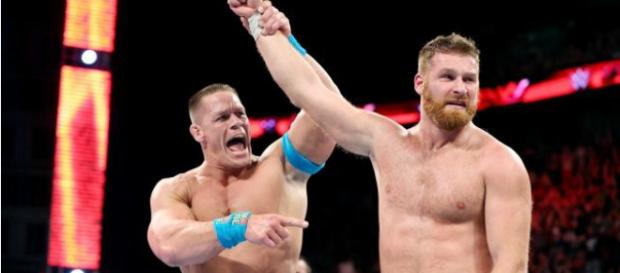 The most recent word is that Styles will be in Orlando this weekend.
Imagine Finn Balor coming in around entry #5 and Brock Lesnar coming in around #29. They are the last two men in the Rumble Match. Finn can barely stand; Brock has barely broken a sweat. Then, from out of nowhere, three guys in Balor Club t-shirts appear and beat down Brock Lesnar. While he eventually fends them off (come on, they're not The Shield after all), it gives Balor just enough time to get up and hit Lesnar with a kick that sends him over the top, and Finn Balor, leader of the Balor Club (or Bullet Club, if Vince allows it) is your new WWE World Heavyweight Champion.
If WWE wants Roman Reigns to be Steve Austin so badly, then have the Bullet Club play the role of DX.
Triple H destroys Roman Reigns
While some have begun to warm up to Reigns, there's still a strong portion of the WWE Universe that would prefer he didn't headline WrestleMania again. So when Triple H makes his in-ring return at #20 in the Royal Rumble Match and Reigns is good and tired, he simply destroys the champion. Exacting his revenge, Hunter comes out while there about six guys in the ring. He tosses everyone else out so that he's alone with Roman.
He delivers one Pedigree. Then another. Then he grabs a chair and delivers one more. After tossing him over the ropes, The Game delivers one final Pedigree right through the Spanish Announce Table.
The Rock destroys Triple H
Assume the scene above takes place, and Triple H has gone back in the ring to wait for his next opponent. It's Curtis Axel. Before he can get to the ring, The Rock comes storming from the back. He takes out Axel and assumes his place in the Rumble.
He confronts Triple H, saying he can't do that to his family. They come to blows. The chair is still in the ring, and The Rock clobbers Triple H, then tosses him out. The Rock is the last man eliminated by Brock Lesnar.
Daniel Bryan draws No. 2
What if WWE finally decides to let Bryan get back in the ring again, and they decide it should be done at the Royal Rumble? Daniel Bryan comes in at #2 and lasts with Reigns until the final four with Brock Lesnar and Kevin Owens.
The winner is someone completely unexpected
With so many of your major players out for Mania, maybe you make this year the beginning of someone's legacy. I'm not talking about someone like Dean Ambrose or Bray Wyatt who already swim near the top. I'm talking about someone like Titus O'Neil, Sami Zayn, Kalisto, or Big E. Like Rey Mysterio and Daniel Bryan before them, they can be the Cinderella story that headlines WrestleMania.
Click to read more
and watch the video