US Congressional Bill for Anti-Poaching reaches 101 co-sponsors
'Krewe of AWE' uses unique methods to rally support to pass HR-2494. Members dressed as elephants paraded in New Orleans.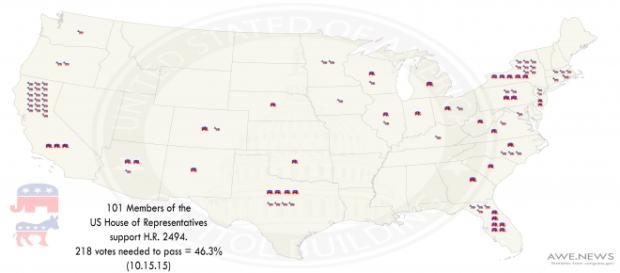 Elephant poaching levels of 20,000 to 30,000 per year are threatening to bring the animal to extinction in the wild in 20 years. Sensing a unique opportunity to create awareness, a group in New Orleans called the Krewe of AWE formed in 2014 to save these vanishing species. 
The group consists of a blend of individuals: gala hosts, artists, filmmakers, legal specialists, and elected officials. Leaders of the group include: former Atherton, CA Mayor Charles Marsala, NOLA events specialist Teryl Flettrich, Ariodante Art Gallery Manager Rachel Oerter, Attorney Vincent Trombatore, Filmmaker Joey Harmon, marketing specialist Eva Solano, and NOCCA music director Mike Rihner.
In November 2014, they began advocating increasing the penalty for Illegal Wildlife Trafficking to RICO levels to deter US smuggling. They are producing a TV show called Awesome Wildlife Effort for public broadcasting in which they interview US Fish & Wildlife Service on the large scale size of the problem in the US; more than seven tons of ivory have been crushed in the last two years by US F&WS. The show includes artists, animal sanctuary operators, politicians, and a pastor of the Ministry of St.
Francis of Assisi who explains Pope Francis' effect on animal conservation.
In New Orleans, a donor will be funding a 16' high metal sculpture of an elephant to create awareness coordinated through the Krewe of AWE. The Krewe has also developed a symbolic adoption program of 12 different orphaned endangered wildlife worldwide.
On-line petitions produced 2,500 signatures in 2014 and packets were sent to US Congressional members requesting action. Last May, HR-2494 was introduced into the House.
As of October 9th, 101 Representatives have co-sponsored in a rare bi-partisan effort. With 218 co-sponsors needed, the Krewe of AWE is keeping the pressure through a Rally to Congress on-line letter writing campaign. 
The success of the Facebook page 'Saving Vanishing Species with the Krewe of AWE' has lead to a second page: 'Republicans Saving the Endangered Elephant & Ending Ivory Funded Terrorism'. This was created after analysis showed that while one-third of Congressional Democrats have co-sponsored HR-2494, only one-sixth of Congressional Republicans have co-sponsored HR-2494.
With a Republican controlled House, it was clear that more Republicans would make passage of HR-2494 more likely. Support of Republican leadership would result in more scheduling on the agendas for passage.  
HR-2494 states 2.(1) Poaching is an estimated "$7 billion annual" industry. 2. (2) "Poaching has escalated in violence, risking the potential extinction of some of the world's most iconic species." 2. (9) "Reporting indicates that a number of rebel groups and terrorist organizations, including Sudan's Janjaweed militia, the Lord's Resistance Army, the Seleka rebel ..., and Somalia's al-Shabaab, " ...
Al-Shabaab has called for an attack on the Mall of America..."
A similar Senate Bill, S-27, was introduced in the Senate by Republican Lindsay Graham and Democrat Diane Fienstein in January. Four other Senators have signed on as co-sponsors. The Krewe of AWE has created an on-line newsletter, AWE.News, to inform members of the progress of the Bills and other activities and events.
The group has a focus to obtain Congressional Republican support in the South and in Rocky Mountain States, which will make passage easier. Given that the elephant is the symbol of the GOP and the GOP's desire to defend the US against terrorism, support should out weigh any opposition from hunting or gun rights groups.    
Democratic support from California, New Jersey, and New York, states which have recently banned the sale of ivory have quickly brought the support to the 101 member milestone in less than 150 days.