Tumbler is an England band that specializes in folk/rock music. Three members compose the band: Richard Grace, Dave Needham, and Harry Grace. Richard is Harry's father, and they both have maintained a strong appreciation for music throughout most of their lives.
Richard is a self-taught guitarist who grew up being inspired by musicians like Bob Dylan. Harry is a singer/songwriter possessing a high level of energy. They met Dave not long ago, who operates a small yet high-quality studio from a shed. Their music is an orchestration of acoustic and retro sounds that serenade the soul. Their album titled You Said was released on September 14th and is an ensemble of steady rock ballads of a psychedelic and rhythmic nature.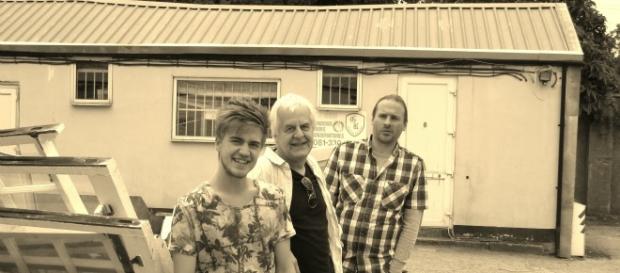 Vocal Display
I'm not fully sure who is doing all the lead singing through the album, but I suspect that it is Harry. The vocal production is not very dynamic, in that there is not a lot of movement between the kind of notes the vocalist sings. Yet that is not something unpleasant. It fits in admirably with the overall musical structure of the album. There is something notably classic and enduring about the singer's voice. The way he executes his plain and soothing singing shows control and proficiency. It is a voice that may prove to stand the test of time in the world of England folk music. We'll just have to wait and see.
Favorite song for vocals: "Call Me Sentimental"        
Instrumentation
The instrumentals bring to my mind the classic rock sounds of the Beatles. They are very acoustically driven with mellow and sweet melodies that sort of put me into a carefree mood. The charismatic and light-hearted elements of the instrumentation are arranged in a cordial fashion, allowing for a beautiful and harmonious output. The gritty sounds of heavy rock do appear in the album, also.
You can hear that play out in the song "Businessman Blues," which offers a very honest explanation of what it takes to climb the ranks in the business world, although in a rather humorous manner. In addition, the instrumentals have somewhat cinematic qualities, as if I could easily picture it being played as background music for a romantic film featuring a captivating journey of love.  
Favorite song for instrumentals: "London Girl"      
Lyrical Essence
The lyrics are exuberant and reflective in essence.
They appear to have come from a very bright and picturesque imagination. They definitely display sincerely creative writing talent. It seems to me that most of the songs are of a hopeless romantic nature. A good example of that is the song "London Girl." In that song, the instrumentation is careful as well as melodious and is paired with sweet-tempered lyrics about a lovestruck guy with his heart passionately set on a lovely and peculiar lady. The lovey-dovey disposition of the lyrics is not too mushy or dewy-eyed for me. It is a fairly cute anecdote of a love affair.
Favorite song for lyrics: "Businessman Blues"         
Final Thoughts
I give Tumbler's latest album a 7.5 out of 10 rating. This band is considerably original with offbeat lyrics that are openly affectionate and unconventional. The instrumentals are refreshing and comforting. They give off an emotionally reassuring vibe. They could benefit from having more versatility in sounds. I appreciate the moving simplicity of the music. In conclusion, these rustic musicians deserve more attention. What's on your mind?