If you love space-rock music, then you may soon become a fan of a Los Angeles-based band named Sidewave. The band consists of four members: Phil Golyshko, Bill Collins, Brandon Dickert, and Matt Russell. Their upcoming album titled Glass Giant is set to be released on October 5th, 2015.
Yet I was permitted to listen to their whole album before the release date in order to review it for them. Sidewave gave me a relatively positive first impression of their musical talents after listening to their entire album. Their songs are generally of an earthy, ambient style that can be quite relaxing to listen to.
Vocal Display
As for the vocals of each song, Phil is responsible for singing, although I'm not sure if he is the only singer in all of the songs.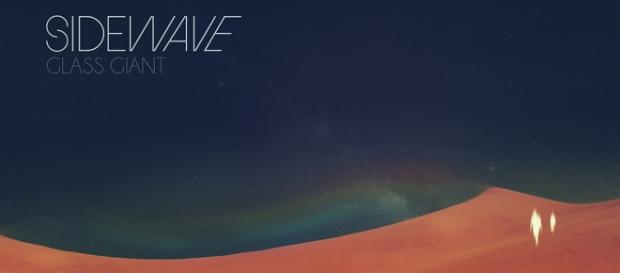 The person singing the lyrics has a rather mild-sounding voice. Although the singer has a somewhat passive voice, he carries notes in consistency with the instrumentals of each song. The vocals really fit in well with the spacey vibes of the songs. There aren't any dramatic shifts in the singer's voice in terms of high notes and low notes for most songs; his voice is very steady in movement. Yet in songs like the one below, the singer hits high notes in an impressive way that doesn't sound obnoxious with the dynamic instrumentals.
Favorite song for vocals: "Illusion of Light"   
Instrumentation
As for the instrumentals of each song, they sound very similar. There are no dramatic or substantial differences in the music of each song to me. On one hand, the vocals are not very forceful or aggressive. On the other hand, the instrumentals are intense and loud. Sometimes it sounds like the instrumentals overpower the singing. The combination serves as a decent contrast to listen to for most songs. In other words, if you want to enjoy rock music that doesn't feature heavy and pushy singing, then Sidewave's album could be of high interest to you.
Favorite song for instrumentals: "Grounded"
Lyrical Essence
As for the lyrics of each song, they are not drastically deep and substantially aloof. Yet it can be somewhat easy to misunderstand what some of the lyrics mean. I felt that way about the song "Lace". The lyrics are a little hard to decipher, although I could recognize metaphors in the song, which brings me to my next point. While listening I got the impression that the band likes to make use of connections between nature and the human experience.
They do so in a metaphorical sense throughout the album that gives it a beautiful output. The songs are also quite hopeless romantic and express a vision of love (not necessarily all songs). The song below is a great example of what I mean.  
Favorite song for lyrics: "Moonshine"
Final Thoughts
I give Sidewave's latest album a 7 out of 10 rating. Although the singing sometimes sounds subordinate to the background music for some songs, there is a reasonable balance present between the mellow singing and powerful instrumentals on average.
A band that Sidewave sounds like is Smashing Pumpkins. Sidewave is definitely a great band to chill out to.
Feel free to listen to their melodic and atmospheric song titled "Supersonic" below. After doing so, let me know what you think in the comments section.