A funeral is usually a pretty banal affair. It is terse and sombre and nobody really enjoys the occasion. That is, unless it is the funeral of one of Italy's most prominent and largest Mafia bosses, and it takes place in the middle of Rome!
That is right, last week the funeral of the infamous Mafioso Vittorio Casamonica not only took place in the middle of the Italian capital in full sight of politicians, law enforcement and the public, but in such a grandiose manner that would make Vito Corleone envious.
Indeed, it seems that the entire event was choreographed by Francis Ford Coppola. The famous score to The Godfather films was played during the funeral march. The coffin of the Mafioso was carried on an ancient wood horse-drawn chariot across the town, while there followed a convoy of dozens of cars (dutifully escorted by the highway police) and  thousands of onlookers ogled on.
Lining the march there were banners with the slogan, "You conquered Rome, now you will conquer paradise."  Perhaps most strikingly, thousands of rose petals  were dropped on the attendees and the chariot as a Catholic priest officiated over the ceremony.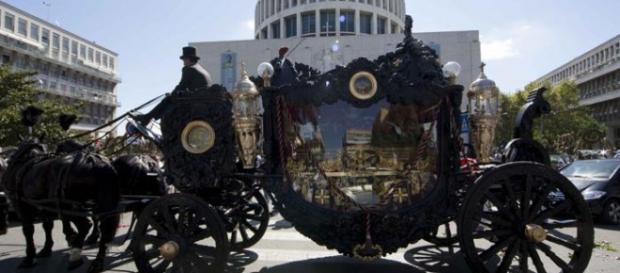 To those onlookers unfamiliar with the Mafia's infiltration in Italian politics, this theatrical funeral provided for some form of entertainment. For Italians who have to live with the Mafia's influence in our daily lives, this is a very worrying development.
We have members of our parliament who are quite literally well-known Mafia members, protected by parliamentary immunity. Members of Parliament  have been found guilty of collusion with the Mafia, and are still free. 
We have a continuous infiltration of our political class by Mafia clans and families. Our national budgets are manipulated to cover national government investment into shell Mafia companies awarded with public construction contracts such as the massive EXPO 2015. 
We have details of all these dirty deals being unearthed by the "Capital Mafia" inquiry, but our political classes on both the left and the right continuously delay the processes and pass laws designed to protect its members with dirty hands.
When it comes to the pursuit of money and power, both of which can be easily acquired with the help of the various organized crime cells, political allegiance is secondary. 
In essence, after decades of the Italian judiciary literally shedding blood sweat and tears to fight the advances of organized crime, our political class walks arm in arm with it and invites it within our parliament. This funeral was not just a funeral, it was a show of strength, a message.
More than a funeral of a Mafia boss, the macabre event symbolized the funeral of the values of Justice and Integrity in Italy. It was a loud and clear statement intended to convey only one concept: the Mafia rules Italy with impunity, again. Some may argue that it always has. 
Click to read more
and watch the video